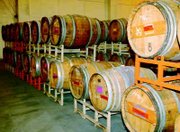 GRANDVIEW - Wine makers in the Lower Valley just got good news. The Columbia Valley Wine Warehouse is open for business.
Located at 614 W. Wine Country Road in Grandview, Columbia Valley Wine Warehouse is the largest public bonded wine storage facility in Eastern Washington, according to Andrew Brassington, managing director at Colstor International.
"We have 51,000 sq. ft. of storage capacity," he added. "That's abut 250,000 cases of wine."
Columbia Valley Wine Warehouse is owned by Columbia Colstor, Inc., a company that owns and operates cold storage warehouses. It was two years ago when the idea for a wine warehouse first arose at Columbia Colstor, Inc.
"A warehouse was leased in Prosser and the idea was tested with that site," Brassington said.
Business did well enough that the company felt comfortable expanding to the current site in Grandview.
"We came to Grandview because of the location and to occupy this building," Brassington said of the Snokist Plant #1 building. "We feel it's more centrally located than Prosser."
The wine warehouse has five temperature controlled rooms. Wine barrels, tanks of wine and wine cases will be stored in the warehouse.
In the past, most wineries in Eastern Washington would ship their wine to the Seattle area or to Napa Valley, Calif. to be stored, Brassington said.
He is thinking with today's fuel costs more wineries will opt to store their wine at the new warehouse in Grandview.
"The customer will be able to store his wine much closer and have easier access to it," he added.
Another benefit to the location, Brassington pointed out, is the rail spur off the back loading dock. This rail spur connects to a regional line, allowing customers to be able to transport the wine. There is also a large bay dock for truck transport.
Brassington said the whole wine warehouse concept fits into the company's competencies. It's what they do. He said the company has a high level of expertise in storing goods and moving and tracking them around the world.
Columbia Valley Warehouse has two employees now but Scott Parkhurst, plant superintendent, said with the right customer base he could see that expanding to 30 employees.
Most of the current customers are just storing wine, but one is planning on actually making the wine in the warehouse. Eventually this customer would even bottle the wine there.
Columbia Valley Wine Warehouse is in a long-term lease with an option to buy the building from Snokist.
"It worked out well for everyone," Brassington said. "We wanted a larger facility and they wanted to get use out of the building."
He added Grandview is a great location being right in the middle of wine country.
"The city contacts have been extremely positive," he said. "It's a very welcoming business climate. I'm very impressed and I've done business in a lot of cities. We already feel at home in Grandview."