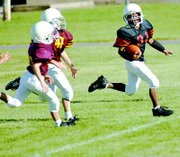 Unable to stop the off tackle runs of the Zillah Grid Kid "A" team, Sunnyside suffered a 42-6 loss this past Saturday, its second loss of the season. Giving up 30 first half points the Sunnyside eleven dug a hole that's tough for any team to get out of.
With an offense geared more to the four yards and a cloud of dust, the Sunnyside team had to resort to passing and going for it on fourth down, which took Sunnyside out of its element.
Zillah, behind a punishing ground attack, didn't have a need to pass the ball when the ground game held the ball and chewed up the clock. Just as tough was the Zillah defense taking control of the line of scrimmage and letting nothing outside of the corners. They kept Sunnyside under wraps until the third quarter.
Opening the second half things started to look better for Sunnyside. After an inspired defensive stand and a resulting punt by Zillah, Sunnyside took over around the 50-yard line. A dive to the left by Fernando Madrigal netted a gain of 10 yards and a shot in the arm to the offensive line. A couple of plays later quarterback Marcos Yanez rumbled in from 30 yards out on a keeper off the left side to account for Sunnyside's lone score.
Zillah tacked on two scores to put the game out of reach.
In early game action the Sunnyside "C" team lost a tough one to Zillah 18-12.
Sunnysides Hassan Kone out raced the defense 30 yards around the left end to open the scoring. After both offenses struggled to advance the pigskin Zillah was able to finally get to the outside and ring up a couple of scores and then kept Sunnyside at bay with a stiff defense.
Sunnyside's third team in action was the "B" Red team taking on LaSalle of Yakima. The "B" Red team lost a heartbreaker 13-12 to fall to 0-2.
The last Sunnyside team to play was the "B" Black which pulled out a 6-0 victory over their Grandview opponent.