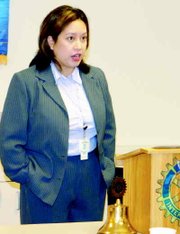 Looking for a change of pace and originally being from Washington, Katheryn Norris, DO, and her husband moved to Sunnyside a couple of months ago.
Norris told the Sunnyside Daybreak Rotary Club a little about herself and what she does here in Sunnyside at Wednesday's meeting.
Norris, from Port Orchard, went to medical school at the Kirksville College of Osteopathic Medicine. She said this was the first school in the states to offer osteopathic training.
She said osteopathy started in the late 1800s when a doctor got disillusioned with the way medical care was progressing.
This doctor came up with the theory that the human body could heal itself. Norris said the doctor felt if the human muscles and bones were not properly aligned, this could promote disease.
Norris uses a manipulation to increase the flow of blood and help along the healing process.
She told the Rotarians a Doctor of Osteopathy (OD) is very similar to a medical doctor.
"We just have more emphasis in the skeletal structure," she said.
ODs and MDs must go to medical school and each must complete three years of residency. Norris did her residency at the Mayo Clinic in Scottsdale, Ariz.
She also worked at the medical facility on the Arizona State University campus.
She's been doing osteopathic manipulation for four years now. Norris just recently started working at the Lincoln Avenue Family Medical Center. She said she is enjoying her time here.