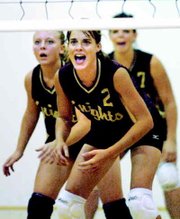 A renewed focus on defense and the service game rallied the Sunnyside Christian volleyball team to a 3-2 home win last night over league foe LaSalle.
The Lady Knights narrowly escaped a sweep and had to rebound from a 2-1 deficit to record the victory.
After LaSalle prevailed 25-18 in game one, SCHS responded by pulling out a 25-23 win in game two. LaSalle then took a 2-1 lead, and got to within one game of a match victory by taking game three 25-8.
"I don't know what happened in that third game," said Coach Tammy Bangs. "The girls seemed distracted, the focus was not there."
SCHS didn't stay down for long, though.
"I told the girls we've just got to pick up our pride and try to win this," Bangs said.
The Lady Knights picked up their pride and a crucial league win by taking games four and five 25-20 and 15-11.
"The main thing I told the girls was to stay strong on defense," Bangs recalled. "They (LaSalle) have some strong hitters, so we focused more on our defense than we did on our offense."
The fifth and deciding game, she noted, came down to SCHS's serving.
"We could not afford to make errors, so we focused on our serving and had to wait and let LaSalle make the errors," Bangs observed.
Tori VanWingerden had 14 service points, four kills and 10 assists to pace SCHS. Teammate Andrea Schutt recorded a team high nine kills.
Also helping the Lady Knights' cause were Emma Newhouse (13 service points, four kills), Abby Bangs (12 service points, eight assists), Melanie VanWingerden (12 service points, four kills and four digs) and Joleen VanWingerden (13 service points and four digs).
SCHS (2-0, 3-0) returns to action this Friday at Trout Lake/Glenwood.