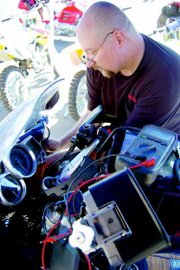 As you read this, Bob Mutchler of Folsom, Calif. may be dropping by Devil's Tower in Wyoming, Joe Zulaski of Redmond, Wa. is making his way to Gerlach, Nev., Tammy and Monte Leveaux of Sparks, Nev. could be just leaving Boise, Idaho, Andy Kirby of Maine might be at Helena, Mont. taking a photo while Rick Morrison of Leavenworth, Wa. may be looking for Medicine Wheel, a place in Wyoming.
What do these people have in common? Motorcycles, points, little sleep, long stretches of road, wayward points of interest and the drive to complete the 2006 Northwest Passage Motorcycle Endurance Rally. A rally that is sponsored by the "Wet Coast Irregulars," a loose-knit group of long distance motorcycle riders based in the Pacific Northwest.
The rally will take them across Oregon, Washington, Idaho, Montana, Wyoming, Utah, Nevada, Northern California and British Columbia in a mere five days with many riders covering more than 5,000 miles.
They compete for many reasons. Some do it to clock the most miles, some to gain the most points and some just for the bragging rights. There are only trophies at the end along with the weather beaten faces and sore rear ends. Organizers are adamant about the fact that this is not a race. They emphasis safety and fun, noting that several motorcycles were fitted with tires or received service at the Sunnyside cycle shop this past Tuesday.
The 27 entries started at 7 a.m. Monday from Newport, Ore. The first of the three-leg, five-day event ended at Sunnyside Motorcycle Company between noon and 3 p.m. Tuesday. They then left that same afternoon for the second leg to Gerlach, Nev. and will end up finishing back at Newport on Saturday between 1 and 4 p.m.
Riders were given their first leg packet at Newport with 84 different locations in Ore., California, Washington and British Columbia they could choose to visit to earn points before coming to Sunnyside. Points run from 1 to 30,000. Riders are given hints as to where the locations are, but it is up to them to map out a strategy that allows them to visit the most sites, gain the most points and be sure to make the first leg check-in on time. Generally no two riders follow the same path throughout the rally. Anyone coming into Sunnyside after noon on Tuesday was docked five points for every minute they were late.
Some examples of the 84 points of interest riders might have visited ranged from the Sea Lion Caves, Grand Coulee Dam, Omak Stampede & Suicide Race site, the town of Starbuck, the world's largest frying pan (Long Beach, Wa.), Deception Pass Bridge, Dry Falls Overlook, end of the Lewis and Clark Trail, Tillamook Cheese Factory, Port Townsend Ferry crossing, Royal City, Burns, Ore., Ginkgo Petrified Forest State Park, Paradise Lodge and the Silver Dollar Café. Each rider must verify their location with a photograph of them with their entry number or other means of verification like a dated receipt from a store or café. Many riders use Global Positioning Satellite (GPS) technology to plot their course while others use maps.
As Rick Morrison put it, "It isn't a race, it is about time management." Morrison had just gotten into Sunnyside about an hour late. He and fellow rider Bob Mutchler had logged the most miles, 1,935 and 1,930, respectively, since Monday morning. You see, Bob had a speaking engagement Monday in Fresno, Calif. at a Rotary Club meeting and Morrison decided to tag along.
Mutchler's speaking engagement was about ridding the world of polio. His fight is coupled with the PolioPlus efforts of Rotary International. You see, Bob was diagnosed with polio at nine-months old and spent three years in an iron lung. Now he competes in Iron Butt Rallies and is known by many as "Motorcycle Bob" for his tireless fight against polio. A "PolioPlus Motorcycle Rides" and Rotary stickers adorn his sidecar, which is strapped to the side of his BMW R1150 RT motorcycle. He has also finished three of the four Iron Butt, 11 day, 11,000 mile, Rallies he has competed in.
Tuesday after points and standings were posted at Sunnyside Motorcycle Company, packets were handed out with the next points of interest along the way to Gerlach. Riders plotted courses before heading out on the second leg of the journey, thankful they had a chance for a little rest and refreshment in Sunnyside.
If you would like to know more about endurance rallies or Bob Mutchler's PolioPlus rides you can check these sites:
www.ironbutt.com
www.northwestpassage.us/
www.polioplusrides.org