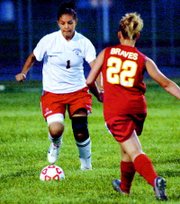 It was a strong start and strong finish for the Sunnyside girls soccer team last night.
The problem was a span of 25 minutes in the first half when visiting Kamiakin surged for 10 goals on the way to a 10-0 win.
"We were holding our own for the first 15 minutes," said Coach Kathy Jolliff. "Everyone was playing tough and our defense wasn't letting anyone through."
Jolliff attributed Kamiakin's dominance over the final 25 minutes of the first half to the Braves' Sidonia Davin. "She saw an opening and started making runs from the midfield," Jolliff said of Davin. "She is a great play maker and was responsible for getting Kamiakin on a scoring spree."
It was some spree as the Braves pounded the net for three goals in a span of five minutes on the way to a 10-0 halftime lead.
Despite the deficit, Jolliff said her team was excited at halftime, and felt the game was closer than the scoreboard showed.
"I agreed with them but I told them they had to prove it by being more consistent on their pressure and not let them score any more," Jolliff recalled.
The Lady Grizzlies followed the advice and shut out Kamiakin over the entire second half.
"The second half was fun to watch. We had a great crowd of fans, which always makes it fun," Jolliff said.
"I know I have a young and inexperienced team, but they have talent and ability," Jolliff said of the Lady Grizzlies. "It is just taking longer for us to come together as a team."
Jolliff also made some changes in her lineup for Tuesday's contest, with junior Mayra Serna and sophomore Haydee Navarro playing defense with Teresa Ramos and Melissa Miller.
Jolliff also praised the leadership of senior captain Leslie Jones. "She has the team's respect on and off the field," Jolliff said.
Not only is Sunnyside tinkering with its line-up, it has also been hit by the injury bug.
"We are down a couple of players due to injuries," noted Jolliff. "Samantha Wright has a pulled hamstring and Evelyn Candido broke her collar bone in practice."
Sunnyside (0-2, 0-3) is home again this Thursday to play East Valley.