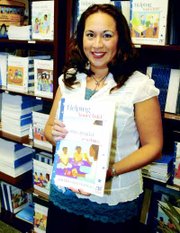 One of Yesenia Rodriquez's goals as the new school and family resource coordinator for the Sunnyside School District is to increase the number of parent volunteers.
She said there are a lot of things with which parents can help the school district. She said help at crosswalks is needed, welcoming students or parents to school buildings, help on playgrounds or helping with art projects and field trips.
"There are a lot of things to do after hours, too," Rodriquez said. "An example of how parents working 9 to 5 jobs could help would be for them to volunteer at the phone bank."
The phone bank, called the telephone communication system, is a way for parents to get information. Parent volunteers call other parents and invite them to school events.
Parents manning the telephone communication system are provided child care and dinner.
Although this is a new position for Rodriquez, her job is not something she is new to.
Before she went to work directly for the Sunnyside School District this year she worked at the Northwest Community Action Center (NCAC) as the parent educator for the Sunnyside School District.
Her job was to provide tools, training and information for families to be involved with their children's academics.
"We provided workshops on preparing for parent/teacher conferences and WASL workshops where parents could ask questions regarding student assessments," she said. "We also did workshops on peer pressure and self-esteem."
She still does that but now wears a few different hats. She is also the representative between the school district and the community. Rodriquez goes out into the community and establishes relationships with businesses and families.
"It isn't just families with students," she explained. "A lot of retired families like to be involved and help with the district, too."
She said the main goal is to promote parent involvement with the schools, parents and community groups.
Rodriquez also oversees the Parent Information Resource Center. The center provides free information on programs and activities parents can do to improve their children's education.
There is a library at the center where parents can check out books, videos and DVDs.
Last week Rodriquez put on BBQs at Pioneer and Chief Kamiakin elementary schools trying to recruit parent volunteers.
She said that's the toughest part of her job.
"Right now there is a shortage of volunteers," she said.
Parents can find information on how to volunteer at each of the schools in Sunnyside or by going to the Parent Information Resource Center. A small application must be filled out and a copy of the person's drivers license or I.D. card will be taken. There is also a background check involved.
She said volunteers can even help out at home. Teachers need help outside of the classroom, too. The work can be taken home for the volunteer to do.
Volunteers that speak other languages than English are also prized, she said. Rodriquez said the opportunity for students to learn and hear other languages could be invaluable to them in the future.
There are many rewards for Rodriquez in her job.
"Seeing the benefits to the students as they get help in every aspect," she said. "The parents feel like they are part of their children's education."