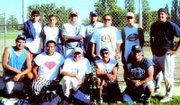 Fielding a team made up mostly of fathers and sons, the Kino's mens slo-pitch softball team of Sunnyside finished second in a Chicano/Latino 13-team tourney held this past weekend at SunnyView Park.
A club from the Tri-Cities won by nine runs over Kino's in Sunday's title game.
Kino's MVP for the tourney was Dave "Chief" Palomarez, who hit seven home runs and batted .737 during the competition.
Kino's was 5-1 for the tourney and batted a combined .534. Kino's received a boost from the team's defensive MVP, Chino Esqueda, who batted .478 and was named the best infielder.
The top hitter for the tourney was Kino's Fidel Castro Jr., who batted .789. Other teammates hitting above .500 for the tourney were Gilbert Briones (.524), Anthony Palomarez (.609), Tyler Esqueda (.579) and Gibby Briones (.571).
Kino's wraps up the 2006 season this coming weekend with the Sunshine Days Tournament to be held at SunnyView Park.