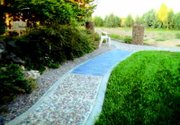 PROSSER - It's been described as a sanctuary. A cobblestone pathway winding through trees and flowers with stunning sights such as a waterfall feeding a pond.
Along the path are several rest areas to relax or just stop and enjoy the scenery.
Residents in the Lower Valley will get to experience this at an open house Saturday, Sept. 23, from 1 to 5 p.m. at the new Chinese Reflexology Pathway.
"We're almost finished," said Linda Mackey, an instructor at the International Academy of Reflexology and Meridian Therapy in Prosser. "We'll be putting in the last of the rocks on Friday (today). We have about 100 feet done. The waterfall is all in place and we'll put the pump and the water in this weekend."
The pathway is located at the business location of the academy in Prosser at the intersection of Wilgus and North River Road.
The walkway is approximately 157 feet long and will have areas on the path featuring different levels of reflexology. It winds through a garden and was created to exhibit all five elements of Chinese medicine. It is designed to improve blood pressure, promote functional mobility and improve overall balance.
Reflexology is not a massage, according to a press release sent by Natural Maximum, Inc., the parent company of the academy. Reflexology is a method of applying pressure to the feet in order to access all 7,000 nerve endings and the meridian energy points that make up the same points that acupuncturists use.
People are invited to the open house to try the pathway. There will be food and refreshments offered. Dan Meyers, an expert in Native American flutes, will provide music.
Also, reflexologists from the academy and their students will be available to give free reflexology demonstrations lasting 15 minutes.
The open house will coincide with Reflexology Awareness Week. After the open house people will still be able to access the trail. The academy will only ask for donations.
"We'll set up regular hours for the public to come in," Mackey said.
The International Academy of Reflexology and Meridian Therapy is starting its second year. Mackey said there were eight students last year and she has 10 students this year.
"We're looking forward to getting people here to experience reflexology," she added.