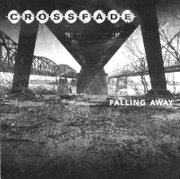 An acoustic guitar opening, vocal harmonies, then an assault of angry metal.
Add murky lyrics about love lost, and you've pretty much got the idea of Crossfade's sophomore CD, "Falling Away".
Thing is, these guys-Ed Sloan on guitar, lead vocalist Mitch James and drummer James Branham-are talented musicians, harmonize well and seem to really want to produce well thought out lyrics.
Problem is, Crossfade throws too much into the mix.
Take the third song, "Someday," for example.
It's got licks reminiscent of Eddy Van Halen's guitar runs and Queen's bombast before a blast of metal takes over.
Now, I'm more familiar with music from my youth in the 1970s than the hard rock of today. Someone into today's hard and heavy metal, though, may enjoy Crossfade's new album "Falling Away". But it's not for me.
Still, Sloan shows his range with what at times-far too few for me-are impressive guitar chops.
On the title track, "Falling Away," the boys open with solid vocal harmonies, before morphing into three angry men.
With the exception of "Invincible"-the first track to be released to radio, by the way-their lyrics are about anger and revenge over love gone wrong.
All of which leads me to think the boys should take their own advice on "Never Coming Home", in which they write, "I think we should finally let this go. We both know it's the end of the road."
That's right, forgive and move on to some brighter lyrics, both in tone and in heart.
My gut tells me that Crossfade could flourish in any number of musical genres.
But they need to decide which one.