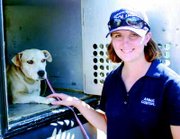 GRANDVIEW - Leah Nedrow has only been Grandview's animal control officer for two months, but she's already making a big difference.
Nedrow, 25, was with the Yakima County Humane Society for nearly two years before taking the Grandview post in July.
During her time with the society, Nedrow worked on animal control issues with the cities of Toppenish and Union Gap.
Nedrow's experience is paying off for the city of Grandview, as her network of animal rescue contacts has resulted in Grandview adopting out 75 to 80 percent of all dogs it impounds.
That's a far cry from before, when Nedrow says the city euthanized most of the stray dogs it picked up.
Nedrow said the first thing she did when taking the job was to set up a program for transferring unclaimed strays to other animal shelters for adoption.
"Agencies on the west side of the mountains prefer to adopt full grown dogs and the agencies over here prefer puppies, so it works out pretty well," Nedrow said.
It's worked out so well that of the 50 dogs impounded since August, 40 were transferred to adoption agencies.
Today, for example, Nedrow will be transferring nine Grandview strays to adoption agencies elsewhere.
"We have a better adoption rate than a lot of other cities," she said.
Nedrow said Grandview has a problem with dog owners who allow their pets to roam at large and/or do not license their dogs.
City statutes require Grandview residents to keep their dogs under control at all times and to purchase an animal license each year, $10 for a spayed or neutered dog and $15 if not.
Nedrow's response to the problem is to visit as many dog owners as possible, stopping to visit when she sees a dog without a license. "It seems to be working," she said.
In addition to dogs-Grandview has a 10-kennel shelter-Nedrow also encounters cats on the job.
Grandview animal control does not have a facility to house cats, Nedrow said, and if she is asked to pick up a cat she has no choice but to euthanize it unless a new owner immediately steps up.
Nedrow said the key is for pet owners to spay and neuter their animals. If they have a dog, it should be licensed and kept in a fenced yard. "A license doesn't cost very much and can help you get your dog back if it gets loose," she said.
While there are challenges as an animal control officer, Nedrow said she loves her work.
"I get to go to work every day and play with dogs," she says. "What other job is there that lets you do that?"