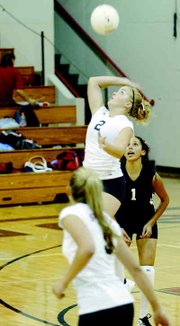 Missed serves and unforced errors cost the Sunnyside volleyball team a chance at its first league victory of the season.
"When it came down to it we just didn't push through," Grizzly Coach Angel Carrizales said of her team's 22-25, 25-21, 20-25, 15-25 loss to Eastmont.
In the first game Sunnyside was down 10-3 before clawing back to within three points, 14-11. After that it was a tight game with neither team holding much of an advantage.
"Our serve-receive was solid that game," Carrizales said. "We should have beat them in that game. We had five missed serves during the game."
Those missed serves would prove costly as Eastmont led 23-22. The last two points to the Wildcats were courtesy of aggressive errors on the part of the Grizzlies.
The second game started out well for Sunnyside. Claire Schilperoort started the game with a 4-0 run on her serve.
"Claire played extremely well," Carrizales said. "She had four kills in the second game."
This game was much like the first, back and forth with neither team gaining a big advantage. Jordyne Jaquish provided some momentum for the Grizzlies by stuffing two blocks back at the Wildcats. Kerri Urrutia had a run of five points on her serve at the end of the game and the Lady Grizzlies held on for a 25-21 win and tied the match at one game apiece.
In the third game with Eastmont leading 23-20, Sunnyside called a timeout.
"We just didn't finish this game out," Carrizales explained. "It was disappointing. We called a timeout to refocus the girls. When they walked back on court a couple of girls didn't know where they were at."
This led to two Eastmont service aces and the Wildcats took game three by a score of 25-20.
In the fourth game the Lady Grizzlies didn't play well at all, Carrizales said.
"We never created any momentum," she added.
With Sunnyside's serve-receive game in trouble, Eastmont rolled off 10 points on serve to take a 24-14 lead. After the Grizzlies got one point back the Wildcats finished it with a 25-15 game four win.
Schilperoort finished the night with 12 kills, 13 digs and two blocks. She was followed by Urrutia with 15 digs and two aces.
Jaquish finished with five kills and three aces. Brittani Rammerman had five kills and Sami Jo Sartin contributed 19 assists.
The Lady Grizzlies (0-3, 1-5) travel to Kennewick Saturday, Sept. 16, to play the Lions at 11:30 a.m.