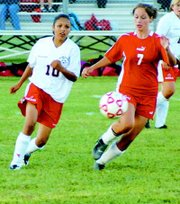 "With only three starters from last year's team, we are like an infant struggling to take its first steps," Sunnyside girls soccer coach Kathy Jolliff said of her team, which lost 9-0 at home last night to 2A East Valley.
East Valley, a power in the CWAC, was up 2-0 just 15 minutes into the match and led 5-0 by halftime.
"I am confident in the girls and their ability because I see it in them," Jolliff said of her team. "Now I just need to get them to see it and to believe in themselves."
As the Lady Grizzlies (0-2, 0-4) struggle to find their first goal and their first win of the young season, Jolliff did find some positives from last night as her team looks forward.
Jolliff praised Jacqui Roberts, who played outside midfield, and Sara Kilian ,who played midfield and defense.
Jolliff also noted the maturing leadership on the team.
"I am encouraged by the leadership of my captains, Leslie Jones, Melissa Miller and Teresa Ramos," she said. "They come to the game and give 100 percent effort physically and mentally."
Sunnyside will look to take another step forward this Saturday when it hosts Columbia Basin League foe West Valley.