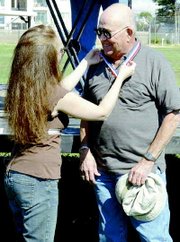 Four Sunnyside residents were honored last Saturday for their contributions to Sunnyside.
"We're celebrating Sunnyside's heritage as well as our future," Sunnyside City Manager Bob Stockwell said at the Spirit of Sunnyside awards presentation. "We're recognizing those that have done some excellent things in the past."
Those recognized were Theron Lochner with the living pioneer award, Pat Kezele with the adult pioneer award, Dianna Mendoza with the youth pioneer award and Don Bennett with the past pioneer award.
Lochner came to Sunnyside in 1948 and worked at Giffens Department Store until 1958. He then went into the lumber business until he retired.
He was the youth choir director for the Sunnyside United Methodist Church and sang in the choir for 53 years.
"I enjoyed singing," he said. "It was one of the things I used to enjoy doing. I can't sing anymore since I lost my singing voice."
Lochner was the music director for the Lower Valley Musical Comedy and Over the Hill Musicals groups. He even tried his hand at acting.
"I didn't like being on stage that well," he admitted. "It gives a lot of people a buzz but didn't do anything for me."
He played opposite his wife in the play "Irene" but decided he would rather direct the music.
Lochner is a lifetime member of the Sunnyside Masonic Club, he is an Eagle Scout and Scout Master, he has been a board member for the Volunteer Chore Services and the Lower Valley Pathway.
About winning the award he said," ... I was excited. I didn't believe it. It was a surprise. I'm very honored by it. There are some people who have been around longer than me but Sunnyside is my town."
Kezele came to Sunnyside in 1974 and her career as a volunteer began in 1984 when she became a member of the Sunnyside Pre-School Board.
"I had a little one in pre-school and was asked to join the board," she explained. "I said, yeah, why not?"
In an effort to learn more about horses she joined the Sunny Valley Saddler's 4H Club in the early 90s. In 1997 she was awarded the Yakima County 4-H Leader of the Year Award.
"My daughter was about 13 at the time and she had always wanted a horse so we bought her one," Kezele said. "We knew nothing about horses so I figured I would join 4-H."
That year was the current 4-H leader's last year so Kezele took the position and held it for five years.
"Two things I learned were administrative skills and that I didn't like horses," she said.
She later joined the Lower Valley Community Concert Board and is still an active member. Her interest in history led her to become involved with the Sunnyside Museum.
"My degree is in history from Heritage University," she said, explaining her interest in history. "It's safe gossip."
Kezele also is the administrator of the Miss Sunnyside Program and the 2006-07 Miss Sunnyside Court will be her fourth.
Mendoza was until Saturday night the second princess on the 2005-06 Miss Sunnyside Court. The last year Mendoza has been busy with parades, ribbon cuttings, community service and other Miss Sunnyside activities.
She has been very active in the development of the Sunnyview Skate Park, committing her time and energy to the project.
"I helped build it," she said. "I was really excited to finally see it get built. My brother Danny tried for years to get it built and when it happened I was just so excited for him."
Mendoza also took it upon herself to clean the graffiti off of Safeway when it was being hit hard in 2004 and 2005. She took it upon herself to speak with Safeway managers to find a solution.
"I didn't know of any other group in town that was going to fix it," she said. "I took it into my own hands and fixed it myself."
She painted over the graffiti five or six times in 2004 and then once in 2005. So far she hasn't had to go back.
Mendoza has taught youngsters at Martin's School of Dance in Sunnyside and has assisted at Pioneer Elementary School. She has also choreographed and instructed participants in the SHS drama camp for the past two years.
This winter Mendoza will travel to Africa with a delegation of 20 women representing the United States.
"It's a study visit," she said. "I'll be spending two weeks there learning about the importance of women in Africa and seeing what my church is doing to help women over there."
Elverna Bennett and her son Lawrence Bennett were at the ceremony to accept the past pioneer award for the late Don Bennett.
Bennett came to Sunnyside in 1953 to help complete the opening of the KREW radio station, his son Lawrence said.
He bought the station in 1965 and was the owner/operator. He received the Washington State Broadcaster of the Year Award in 1992.
KREW broadcasted numerous high school games in the valley and would broadcast the Sunnyside Sunshine Days Parade. After 31 years he sold the radio station in 1996.
"I think it's fine," Elverna Bennett said of her husband being honored.
"Dad really cared about Sunnyside and I don't think he ever missed an opportunity to help out," Lawrence Bennett added.
"We saw him once in a while," Elverna added laughing. "He was busy."
Bennett was a member of The Masonic Lodge, a 57-year member of the Lions Club, Chairman of the Civil Service Commission and a member of the Board of Directors and Chairman of Valley Memorial Hospital. He assisted in the merger of the two hospitals in Sunnyside.
"We're kind of proud of him," Elverna added.