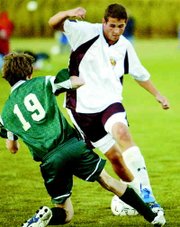 Sunnyside Christian played two non-league games this past weekend, winning both to stay unbeaten this year.
On Friday the Knights played Evergreen Lutheran out of Seattle.
"We scored quick," SCHS Coach Tim De Groot said.
The Knights scored three goals in the first half but couldn't get anything going after that. SCHS managed to hang on and win the game 3-0.
Michael De Groot scored the first goal in the first minute off a pass from Joel Koopmans.
Koopmans got in the scoring action in the 15th minute when he took the ball unassisted and scored a goal.
"Joel has one of the best shots on our whole team," De Groot said. "This one was from 30-yards out. He's an extremely gifted player."
Michael De Groot scored again in the 18th minute to make it 3-0. He was assisted by Aaron Van de Graaf.
"I've always believed the best defense is a good offense," De Groot said. "We kept the pressure on them and kept the ball on their side of the field."
De Groot said four guys did an unbelievable job on defense. They were Luke Meininger, Nick De Jong, Marc De Jong and Danny Van Boven.
Cole Van de Graaf had four saves on the day and SCHS finished with seven shots on goal.
In Saturday's game the Knights beat Valley Christian out of Spokane 8-0.
"We pressured them the whole game," De Groot said.
Michael De Groot scored first again in the first minute assisted by Joel Koopmans.
Koopmans made it 2-0 in the third minute and Aaron Van de Graaf added another goal in the 13th minute when he was assisted by Nick De Jong.
"Nick had moved up as a sweeper and he did a one-touch pass to Aaron," De Groot explained.
Freshman player Devon Swofford made it 4-0 in the 18th minute. He was assisted by Aaron Van de Graaf.
Swofford, small in nature, was carried down the field in celebration after his goal.
Michael De Groot scored his second goal of the game in the 34th minute, assisted by Brenen Swofford.
Aaron Van de Graaf scored for the last time in the first half to make it 6-0 in the 39th minute.
In the second half De Groot moved his back line-up forward and took his forwards and halfbacks and moved them back to the defensive side.
"We gave some of the guys an opportunity to score," he explained.
Foreign exchange student Doo Hong Park scored in the 54th minute off an assist by Meininger.
Marc De Jong made it 8-0 with an unassisted goal from a corner kick.
Besides the eight goals scored by the Knights in Saturday's game the team added 13 shots on goal.
The Knights (4-0) play their first league game Tuesday, Sept. 19, at 4 p.m. against Moses Lake Christian Academy.
"There are a lot of really positive things we're seeing as coaches," De Groot explained. "Soccer for now is fun. They're having a good time."