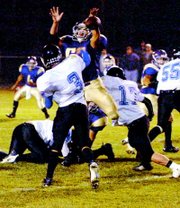 MABTON - For the second time in three weeks, the Mabton football team lost by just a touchdown as the host Vikings fell 14-7 last Friday night to Kiona-Benton.
"I thought they were two pretty evenly matched teams," said Mabton Coach John Durham. "It was a tough loss."
After a scoreless first quarter, the 2A Bears broke the stalemate early in the second with a 73-yard touchdown pass from Ki-Be quarterback Anthony Pace to Jake Johanns. Teammate Zach Clegg booted the extra point attempt through the uprights to put Ki-Be up 7-0.
Mabton rallied to tie the contest midway through the second on a nine-yard touchdown scamper by Eli Perez, who had 105 yards rushing for the game on 21 carries. Viking quarterback Luis Quintero made good on the extra point, Mabton's first successful scoring kick of the season.
Another sign of progress keyed Mabton's lone score, as Quintero delivered a 40-yard throw to account for most of the yardage on the Vikes' 70-yard touchdown drive.
Mabton's passing game had connected on just four attempts through the first two games of the season, but on Friday Quintero connected on 11 of 25 pass attempts for 170 yards passing.
"That was what we had to do because they shut down some of our running attack," Durham said of Mabton's 25 pass attempts. "It made us throw the ball to loosen them (Ki-Be's defenders) up.
The game remained knotted at 7-7 into the fourth quarter, when Ki-Be's Sam Landoe scored what proved to the game winner on a two-yard plunge into the end zone. Landoe's touchdown dive was set up by a penalty whistled against the Mabton defense. Clegg was again good on the point after kick to put the Bears up 14-7.
Mabton didn't threaten from that point, though there were opportunities as the Vikes recovered three Ki-Be fumbles near midfield but were unable to capitalize.
For its part, Mabton's turnovers came through the air in the form of four interceptions. Those and 50 yards in penalties were costly for the Vikings.
"Any time you have penalties and turnovers you have areas to work on," Durham observed. "We had some very tough penalties."
As Mabton (0-0, 0-3) prepares for its league opener and homecoming game this Friday against White Swan, Durham noted there are positives to build on from the tough loss to Ki-Be.
"The good thing is that we are improving every week on offense, defense and kicking teams," Durham said. "The kids continue to play hard."
Though it was the Vikes' second close defeat in three weeks, Durham said he told his team not to take the losses personally.
"It's a team thing," he says. "We focus on the fact that we did some good things, and now we enter league (the SCAC West). Our side of the league is one we can play in. Now we just need to take them one game at a time."