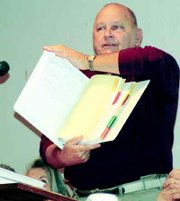 PROSSER - "Did you ever see a child you couldn't love?" Kids in Kare coordinator Russ Boyd asked the audience.
Boyd, who spoke Monday during the Lower Valley Christian Women's Club monthly luncheon, said there is a shortage of families willing to become foster parents for children in need of a home.
"It's not the child's fault," he said.
And that's where Yakima-based Kids in Kare comes in, he noted, offering support for foster families and kinship families, those in which a family member other than a biological parent cares for a child.
Kids in Kare is a non-profit agency that is licensed by the state to place children in foster care. The agency goes beyond that, Boyd adds, helping the transition by providing diapers to cribs. As noted earlier, Kids in Kare services are also available to kinship families. "A lot of grandparents raise their grandchildren at their own expense, they don't have to do that," he said of aid available.
In addition, Kids in Kare offers the 30 hours of training needed to become a foster parent. Holding up a thick manual of all the laws that apply to foster care, Boyd said his agency can help foster parents understand the regulations.
While foster parents do receive a small monthly stipend, Boyd said money is not the reason to host a foster child, noting the expenses of clothing, housing and feeding a child.
Kids in Kare offers social support as well, hosting a Fantastic Fun Friday each month. It's fun and games for the children-including food, foosball, air hockey and movies-and an opportunity for the foster parents to have an evening out alone.
Boyd, who has hosted a total of five foster children, noted that some are hesitant to become foster families because they may only have a child for a short time.
"You may only have a child for a week or month," he said. "But you may be able to give that child the best week or month they ever had."