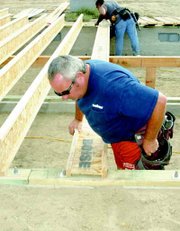 New construction on two houses in Villa Real Estates off West Edison Avenue in Sunnyside is coming along quickly thanks to panel construction.
Instead of building the framing onsite, the builders of the two new homes are using pieces of framing built by Armstrong Construction in Auburn.
"The framing is built in a factory using the latest in computerized laser precision equipment," Dave Olsen, a design consultant for Armstrong Construction, said. "The price is pretty comparable to stick framing but the advantage is the roof gets on quicker.
Olsen said there is about 40 basic plans Armstrong Construction can work from or they can design a house from scratch using the customer's input.
The foundation of the soon-to-be built house must be poured by outside help but then the house is basically delivered onsite in pieces.
The floor is built and then the materials are brought in by truck. Using a crane, whole walls or walls in two sections already built, are lifted off the truck and set into place. The framing for the houses in Villa Real Estates was put together by one worker operating a crane and two other workers on the ground.
"These houses are simple to put together," George Miller, owner of M.Y. Construction, Inc., said. "I could do these in my sleep."
Once the walls are in place the trusses are installed and the roof is attached. A house completely framed takes approximately five hours to complete.
The windows are already installed in the walls when the materials arrive at the construction site. So are the sliding glass doors. The main doors are put in at a later time.
"This really cuts down on onsite labor," Olsen said.
With the framing built away from the site there isn't any excess raw materials lying around. Stick framing by hand can be incorrect and damaged materials can be used, resulting in uneven and inconsistent framing.
At the factory the framing is built using special framing tables so everything is precise, Olsen said.
The framing is built to county and state codes and usually exceeds them, according to Olsen. He said Armstrong Construction makes a lot of houses that are sent to Japan.
"One year they had a big earthquake there and after it was all over, our houses were still standing," he added.
Olsen said the company makes about 200 homes a year and has been in business since 1962.