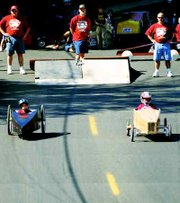 The eighth annual Sunnyside Soapbox Derby held this past Saturday drew a total of 22 participants.
It marked the first year the derby was held during Sunshine Days instead of the Fourth of July holiday, and the change seemed to be a popular move, according to Joan Niemeyer, coordinator of the Sunnyside Recreation Department, sponsors of the event.
"It went very well," she said. "We had about the same number of participants (as last year) and they truly enjoyed the middle of September."
Niemeyer noted she received several comments about the milder weather and temperatures in September versus July.
"It was so much nicer. I think this time of year is ideal," she said. "Overall it was a good program, the races went very well."
The race featured competition in four divisions.
Kendra Hollmeyer earned first-place honors in the youth green division, followed by Hannah Vlieger and Brianna Biggs.
Elias Torres took the checkered flag in the youth red division, with Taylor Hamm and Marissa Boob placing second and third, respectively.
In the adult division, Sheri Hollmeyer finished first, while husband Jack was second and Dave Van Dyke earned third-place honors.
In the annual Mayor's Cup competition between Grandview and Sunnyside, Grandview City Council member Bill Flore finished first, followed by Sunnyside Mayor pro-tem Jim Restucci.