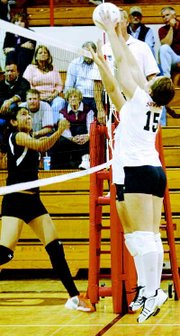 Reeling from four straight losses, the Sunnyside volleyball team bounced back Tuesday night by beating the 4A Davis Pirates in five ono-league games 25-14, 21-25, 25-22, 19-25 and 15-9.
The first game for the Grizzlies was picture perfect.
"We dominated the whole game," Sunnyside Coach Angel Carrizales said. "We wanted to come out strong."
Carrizales said the Lady Grizzlies met all of their goals for the match in that first game. One goal was to not have more than two service errors. The Grizzlies only missed two and countered that by serving four aces.
"Anytime you have more aces than service errors, you're going to be alright," Carrizales said.
In the first game Claire Schilperoort had four kills and Molly Dolan added three kills.
In the second game the Lady Grizzlies mishit four serves. Because of that, Carrizales said, Sunnyside couldn't gain any momentum. She said the Grizzlies wanted to get to 15 points first.
"If we would have pushed harder it would have been closer at the end," she added.
With the games split at one apiece the Grizzlies came out in the third game and dominated again.
"We earned every point we got in that game," Carrizales said.
Sunnyside earned 12 points on 12 kills and six points on service aces. Carrizales said this made the girls feel like they were working hard.
With the Grizzlies up two games to one, Sunnyside started to make errors, especially in ball handling.
"We fought for every point but we couldn't get into the game because of poor ball handling," Carrizales explained.
But, there were some bright spots in game four. Brittani Rammerman had a run of four points on her serve and Schilperoort had three kills in a row.
In the fifth game Carrizales switched setters and put in Melissa Stamschror for Sammi Jo Sartin. The Grizzlies controlled the whole game, going up 14-6 before Davis added three more points. Sunnyside then closed it out.
Schilperoort finished with 16 kills, 22 digs and three aces on the night. Jordyne Jaquish had nine kills and two blocks. Dolan added seven kills, four aces and three blocks.
Also for Sunnyside, Kerri Urrutia had five kills, 26 digs and three aces. She also didn't make any mistakes on serve, going 23-for-23.
Normally a JV player, Stamschror only played a game and a half but still finished with 14 assists. Sartin had 30 assists on the night. She also was mistake free on her serve, going 15-for-15.
Sunnyside's Marina Martinez had 30 digs. Rammerman had five kills and 14 digs, and Heather Cant finished with four kills.
"I'm very proud of the fact they showed up and took a match from a 4A school," Carrizales said. "I think it will give them confidence the rest of the season. They're continuing to improve every day."
Sunnyside (0-4, 2-6) will host Southridge this Thursday, Sept. 21, at 7 p.m. in a league match.