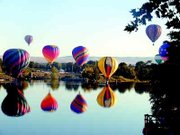 PROSSER - The 17th annual Great Prosser Balloon Rally is just around the corner, with events set to begin bright and early Friday morning.
At sunrise Friday, anywhere from 25 to 35 hot air balloons are scheduled to take flight, weather permitting. Those wishing to witness the launch are encouraged to be at the Prosser airport by 6:30 a.m. to watch the pilots prep and launch.
Pilots are expected to visit area schools at 9:30 a.m. Friday for what is known as "static displays," where the pilots will inflate their balloons while explaining balloon functions to students. Pilots will visit Sunnyside's Pioneer Elementary School and Artz-Fox Elementary School in Mabton at about 9:30 a.m.
Prosser's Harvest Festival also begins Friday in downtown Prosser at 6th St. and Meade. This year is unique in that the 43 vendors will be selling hand-crafted items and fine art. There are no mass produced items that will be sold this year. The Harvest Festival runs through the weekend.
The Caren Mercer-Andreason Street Painting Festival begins Saturday and will run through Sunday. In addition to featured artists creating their masterpieces, children will also have an area designated for their creative use.
Saturday morning presents the opportunity to attend the Farmer's Market at City Park beginning at 8 a.m. The market features local produce and hand-crafted items.
The gates at the high school stadium open at 5:30 p.m. on Saturday for Night Glow, when balloons are anchored and lighted from the inside at dusk, weather permitting. During pre-glow, the crowd will be entertained by the Tri-Cities Steel Drum Band Association. Hungry folk are invited to support the Prosser Livestock Fund by indulging in food fresh off the barbecue.
The 21-and-over crowd is invited to attend the After Glow Party at Coyote Canyon Winery and Lounge, located at 716 6th St. The fun begins at 9 and the doors will close at midnight. Admission cost is $5.
Balloon Rally spectators have a variety of breakfast options throughout the weekend. On Saturday morning, Chukar Cherries will provide spiced cherry apple cider and breakfast bars. PEO will provide a continental breakfast on both Saturday and Sunday at the Prosser Airport. The Prosser High School National Honor Society will present a country breakfast at Keene-Riverview elementary school. On Sunday morning, members of the Prosser senior center will host an all you can eat pancake breakfast.
The balloon rally has a new guest this year in Mickey Mouse, sporting his traditional ears. Mickey Mouse is a Disney hot air balloon to be piloted by Scott and Laurie Spencer.
The Great Prosser Balloon Rally memorabilia will be available during the morning launches Friday through Sunday, as well as during Night Glow.