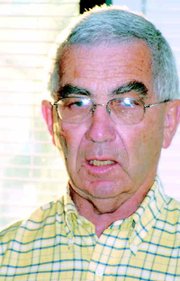 "My job is to ask people for money," Bill Flower told the Sunnyside Kiwanis Club this morning.
Flower works on behalf of the Sunnyside Community Hospital Foundation and presented the hospital's fundraising needs for an expanded emergency room.
He called Sunnyside Community Hospital "one of those gems in our county" that is easy to overlook.
Flower said the hospital, a non-profit entity, needs to expand its emergency room capacity to serve both "urgent care" and emergency care patients. He said the hospital foundation currently has $1.2 million on hand for the project and needs to raise another $1.5 million.
In 2005 the hospital saw 17,500 urgent care patients. Flower defined urgent care as those patients who either do not have a doctor or need to see a doctor after hours. Sunnyside Community Hospital saw 650 emergency care patients in 2005.
According to a statement Flower distributed this morning, "Forty thousand 'place bound' families within the hospital service area have no access to primary care and use the local hospital's emergency facilities for all medication needs."
Flower noted that those patients must share space with incoming emergencies under the hospital's current configuration.
To counter that, the hospital is planning to expand the emergency room area to accommodate separate areas for urgent care and emergency care.
The plan calls for six urgent care examination rooms separated from the emergency examination area. Flower said the expansion would also allow for decontamination showers in the event of an infectious disease or toxic incident at the Hanford Nuclear Reservation or the Umatilla Chemical Weapons Depot.
"If there's an accident (at either of those locations) and the wind is blowing just right we would be in the middle of it," he said of the Lower Valley.
Flower said farm accidents involving chemicals could also be treated with the decontamination system.
The foundation hopes to have the $1.5 million raised by next August, Flower said.
He noted that the hospital has received help toward that direction from two matching grants.
The Murdoch Foundation has pledged a $200,000 two-to-one challenge grant that would require the foundation to raise $400,000 in order to receive the grant.
In addition, Flower said that Fred and Ann Whitney have pledged $10,000 when the foundation receives nine more gifts in the same amount.