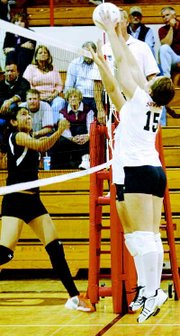 MOSES LAKE - After four straight victories to open the season, the Sunnyside Christian High School soccer team tasted defeat for the first time Tuesday, losing to Moses Lake Christian Academy 4-3.
Moses Lake is a very big, strong, physical team," SCHS Coach Tim De Groot said.
The Knights scored early, something they've done in almost every game this season, in the second minute of play. Joel Koopmans scored on an assist from Aaron Van de Graaf to make it 1-0.
Moses Lake scored 12 minutes later when Phillip Friehe put one past Knight keeper Cole Van de Graaf.
Before halftime Moses Lake scored again to go up it 2-1 on a goal by Brendon McCornach.
SCHS's Brenen Swofford then evened things up 15 minutes into the second half when he took a pass from Koopmans and scored.
Moses Lake would score the next two times. In the 57th minute Moses Lake's Levi Godfrey made it 3-2 and then McCornach put Moses Lake up 4-2 in the 71st minute.
In the 79th minute, one minute before the end of the game, Nick De Jong brought the Knights to within one. He was assisted by Koopmans again.
Moses Lake did their homework on the Knights. They knew about Michael De Groot and seemed determined to keep him from scoring, something he has done many times this season.
"They knew about him," De Groot said. "They put a guy on him all game and shut him down."
De Groot summed up the loss by explaining Moses Lake controlled the mid-field.
"They have two players that run everything," he added. "Joel Koopmans runs our offense. We were not ready for two strong players with Joel's caliber. It was tough to shut both of them down."
De Groot added they now know what they have to work on. He said there will be some changes in the way the defense is run after this game, in case the Knights see something like what Moses Lake threw at them again.
Cole Van de Graaf finished with seven saves, five in he first half and two in the second half. Danny Van Boven took over keeper duties with 15 minutes left in the match and had one save.