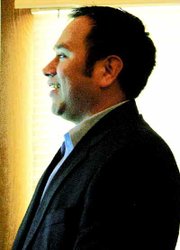 Sunnyside Noon Rotarians welcomed back to Sunnyside a 1995 graduate of Sunnyside High School, who came to town Monday to tell them he had a plan that could bring better health care to their employees at a lower rate to the employer.
"I think it's good for our local kids to see a local guy make good," said Jim Trull, Rotary program chairman, who had arranged the visit to the club by Eric Amador.
Amador is a consultant to ClearPoint, a firm that serves as a middle man between employers and insurance companies.
While he was a student in Sunnyside, Amador was ASB president in his graduating year and went on to get his business degree in 1999 at the University of Washington.
After working for an internet company as a project coordinator for three years, Amador said he dove into ClearPoint five years ago where he met his wife-to-be, who coordinates all the wellness programs for the company, which is based not only in Seattle, but Boston and Portland, Maine.
"And she's from West Valley!" Amador told the Rotarians, who good-naturedly teased the former Grizzly for picking a lady from a rival school. "I didn't find that out until later or I wouldn't be getting married to her," Amador said, laughing.
The jump to consulting for ClearPoint was a big one for Amador, he said. "Here I was at 22, never been on a plane, and flying to New York and a lot of other places," he said.
Now, he feels right at home in the corporate world where he is enthusiastic about helping employers lower their insurance costs by introducing their employees to a wellness plan designed to improve not only their health, but their productivity on the job.
"We want to get people to thinking about their health and how they spend their money," said Amador, showing off a gadget attached to his belt.
Similar to a pedometer, the accelerometer he was sporting plugs in data on a person and then measures the activity that person generates. Points are accumulated and those points can put an employee on the pathway to a healthier life.
"If I walk a mile, I might get 10 points. If I run a mile, I might get 15 to 20 points," said Amador, doing a fancy little twist that he said employees are making to show off the points they've accumulated as they stand around the water fountain with the gadgets attached to their belts.
"They get involved and they get motivated," said Amador.
Citing statistics that show a majority of health care costs arise from situations caused by lifestyles that have led to obesity, Amador touted the wellness program developed by ClearPoint.
"If you don't get leadership buy-in, this program is never going to work," said Amador. But with employers who support the incentive program, the difference can be measured in dollars, he said.
Amador has just recently been appointed to Central Washington to introduce his company's plan to companies both large and small.
"We serve companies with 25 employees to companies with 15,000," he said, adding that the goal is to find out the needs of the company and then find the best insurance deal among the big insurance companies to fulfill those needs.
Any employer interested in learning more about ClearPoint may call Amador at 1-800-410-6571 or e-mail him at eamador@clearpoint.com.