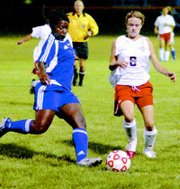 The Sunnyside girls soccer team found the back of the net for the first time this season, but it wasn't enough in a 6-1 home loss to Hanford yesterday.
"We lost but we felt it was a much closer game than the score reflects," Coach Kathy Jolliff said of the Columbia Basin League match. "We made a few more mistakes then Hanford because we are a younger team. We made a couple of defensive errors and they capitalized on them."
The Lady Grizzlies' first goal of the season came late in the match.
Teresa Ramos delivered a direct kick for the Lady Grizzlies that drew out the Hanford goalie at the same time that Sunnyside's Haydee Navarro reached the ball and booted it into the net.
Both Ramos and Navarro are sophomores and represent a youth movement underway for Sunnyside girls soccer.
"I played five freshmen in the game," Jolliff said. "I also still have three starters out with injuries and a fourth with a kidney infection. So when I weigh all of that I think we are doing great."
Jolliff praised the play of freshman Nicole Palomarez in goal for the Lady Grizzlies. She also highlighted the play of sophomore defender/midfielder Sara Kilian and freshman midfielder Michelle Galvan.
"The girls played well," Jolliff said of the Hanford match. "And were happy about their efforts."
Sunnyside (0-4, 0-6) travels to Wapato this Thursday.