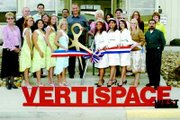 VertiSpace, a division of Canam Steel, is geared up and ready to start producing mezzanines at its plant in Sunnyside.
The company had its ribbon cutting ceremony on Tuesday (Sept. 19) and is officially open for business.
"Mezzanines will be the focus of VertiSpace," Tom Mills, west coast regional manager, said.
Mills said the mezzanines will all be high-end structures and epoxy coated.
"Sun Building (the Canam building in Sunnyside) has always built mezzanines but they were supported by the building," Mills Explained. "VertiSpace will build free standing mezzanines."
A mezzanine is an easy way to add a second floor to a building. Mills said no matter how big a building is, the space is eventually filled up. Adding a mezzanine is one-third of the cost of constructing a new building.
VertiSpace is the culmination of years of experience. It is the only company on the West Coast that manufactures mezzanines.
"We've just begun presenting stuff," Mills said. "The response has been enormous. People are excited about it."
Mills said it's a turnkey. The customer calls VertiSpace and then VertiSpace produces an engineered product.
When VertiSpace gets a call from a client the dimensions, loading scenario and expected use details are taken. A math model of the mezzanine is produced and then it is weighed against other data to produce a cost.
If the cost is acceptable to the client, engineers will take the preliminary design and turn it into their design. Each plan gets a professional licensed engineer stamp on it.
If the client approves the plans then the mezzanine goes into production.
"Within weeks of that first call we'll be ready to ship the finished product anywhere in the West, including Alaska and Hawaii," Mills said.
Since the mezzanine is not supported by the building, instead the columns and beams are bolted together and secured that way, the client can take the mezzanine with them if they ever leave the building they are in.
Mills also said buildings usually take 30 years to depreciate but since the mezzanine can be viewed as equipment the mezzanine can be depreciated in as little as seven years.
Mills said he is hoping VertiSpace will have a positive impact on Sunnyside.
"We will need more people," he said.
He said with the increase of business VertiSpace will need more welders and engineering staff.