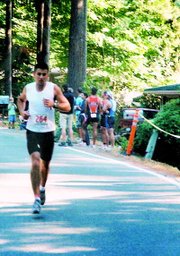 GRANDVIEW - Some people climb mountains just because they are there. Grandview's Nick Van Tress will compete in his first Iron Man competition for the same reason. Because it's there.
The 27-year-old man remembers watching the Iron Man on TV when he was a child.
"I always liked it and in the back of my mind I thought it would be a pretty cool thing to do," Van Tress said.
As he got older he decided he would do one before he turned 30.
Next June 24, the grueling Coeur d'Alene Iron Man will be his first attempt but he is no stranger to the little brother of Iron Man competitions, triathlons, having competed in several of them dating back to 1997.
That was the first year he ever competed in a triathlon.
"I was still in shape from high school for that one," he remembers. He opted to lay off from competing but then decided to get back in shape.
Eventually, he competed at another triathlon and liked it so much he's kept at it.
His most recent event, the second triathlon he's competed in this year, was the Titanium Man held in the Tri-Cities two weeks ago. He entered and did better than he thought he would, finishing in two hours and 26 minutes. Last year he competed in four events.
Van Tress and his wife volunteered to help out at the last Iron Man Coeur d'Alene event. When his wife saw what people go through towards the end of the event she flat our refused to let him do it. He was persistent, though, and she finally relented.
"She says she'll be there but isn't sure she'll watch," he said.
An Iron Man is no small feat. Each competitor must swim 2.4 miles, bike an additional 112 miles and then run a marathon, which is 26.2 miles. A triathlon routinely covers a distance of approximately 32 miles.
To put it into perspective, the bike ride in an Iron Man competition would be like riding a bicycle from Prosser to just past Ritzville.
"That was one of the biggest things that scared me when I clocked how far 112 miles is," he said. "It still scares me."
He biggest fear, though, is the swim.
"It doesn't sound very far but 2.4 miles is a long ways," he said.
Still, he wants to see if he can do it and he's not worried about his time. The Coeur d'Alene event starts at 7 a.m. and he has until midnight to finish.
"The biggest thing for people doing their first Iron Man is just to finish," Van Tress said.
His training plans include lots of running, lots of swimming and lots of biking, he said.
He just joined the Valley Racquet Club in Sunnyside so he will be able to swim in the winter. Before, he had never practiced his swimming but this time will be different.
Van Tress has never ran a marathon before either and isn't sure he'll start before next June's Iron Man.
"If I run too much I usually get hurt," he added.
He has been toying with the idea of running the Seattle Marathon but said if he does, it will just be for the experience.
He wants to build up his bike rides to between 250 and 300 miles per week. He plans on running between 50 and 60 miles per week and for the swim, he plans on swimming, swimming some more and then doing it again.
His training is going slow as he builds up his base and then as the Iron Man gets closer Van Tress will increase his tempo and work on his speed.
Van Tress is hoping for a time in the bike ride of about five and a half hours. He said the fastest guys on the bike at the last Iron Man in the Idaho competition averaged 23 to 24 mph.
"I'll be super happy if I can pace myself at 20 mph," he added.
He's hoping to finish the run in under four hours but admits that might be a daunting task after riding a bike for 112 miles.
"We'll see, I guess," he said.