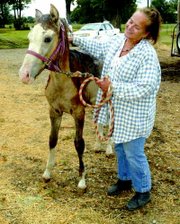 Bob Quick has been around horses all his life. He's been raising them in the valley for 30 years.
Gloria Quick said she had wanted a horse all of her life.
"When Bob and I got married I said, 'thank you Lord, I have horses now'," Gloria said.
The Sunnyside couple has been married for five years and they both say horses are their therapy.
Thanks to Bob, this will be the third year Gloria will show horses. She recently paid it forward and encouraged her friend, Donna Hendrickson, to start showing horses, too.
"I love animals," Hendrickson said of her decision to show a horse at the Central Washington State Fair in Yakima. "One lady told me I was a natural the other day."
The Quicks and Hendrickson will show their horses Thursday, Sept. 28, at 9 a.m. at the Yakima fairgrounds.
Bob has been training Gloria for four years and now his wife will help pass on her knowledge of horses to Hendrickson, with Bob's help.
Mrs. Quick will show two fillies, a three-year-old and a six-month-old. Hendrickson will show just one horse, a six-month-old stallion named Apache Star Jr.
The horses will be shown in the halter class at the fair. To train the horses Hendrickson has just been getting to know her little stallion.
"I just take him out of the pen and walk him," she said. "Gloria has been teaching me."
During the competition the two ladies will be told by the judges what to do with their horse.
"If they say trot the horse, we trot it," Gloria said.
The horse is judged on its mannerisms-how the horse walks, trots and how well the trainer can control him. The way the horse carries itself is also important.
Grooming also comes into play, and because of this the horses will be given the spa treatment before the trip to Yakima.
Mrs. Quick said all the ear hair must be trimmed from the horses. The whiskers will be trimmed, as well as excess hair around the hoofs, on the bridle path and the nose. All this is known as a show trim.
Mr. Quick said that once the horses are washed and ready to be shown, a show halter is put on them.
"It's a fancy halter with lots of silver," he explained.
Quick added the number of horses entered can vary, as he has seen as few as just two horses and as many as 15 competing.
His wife in the short time she's been competing has won first place honors two years in a row with her three-year-old filly, Little Star Missie. Bob will be showing Little Star Missie's mother.
"I've never walked out of the ring without something," Bob said of the 11-year-old mare.
Despite all their success over the years, the Quicks are hesitant to make any predictions about the outcome of this year's competition, but Bob did make one.
"You come out with the same horse you go in with," he said.