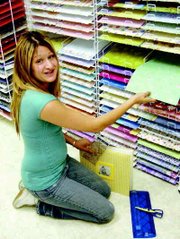 Cindy Chavez, 18, is taking her first step into the 'real world' and she gives credit to a group of mentors for the 2006 graduation certificate from Grandview High School she carries along with her.
"I was really behind in school. My teachers were the ones who really got me involved in class and told me why I should stay in school," said Chavez.
Their names roll off her tongue: "Miss Bardwell, Mr. Long, Mrs. Gonzalez, Mrs. Desserault, they all helped me," she said.
"In my freshman year I was not going to school. I was staying home, and they were the ones who helped me graduate. My counselor was the one who showed me the way to what you have to do to graduate," she added.
Chavez said another mentor, Martha Esparza, has given her a job with flexible hours that will allow her to continue her education. But more than a wage, Chavez said, Esparza has given her encouragement to pursue another goal.
"I want to study to be a veterinarian's assistant and take veterinarian courses for four years," said Chavez.
She said she was babysitting when Esparza offered her a clerking position at her Two Peas in a Pod shop in Sunnyside.
"I wasn't really looking for a career job, just something to earn money to get into college," said Chavez. "I wanted to find a job easy for me so I could still go to school. Here, I get to pick up the hours I want and I am learning something, too.
"I'm learning how to scrapbook and how to be organized with the things we sell and I work a lot with people. I help clean up, answer the phone and answer questions. I helped with the sidewalk sale we had recently, which was good because we made good business that day," she said.
"I like spending time with Martha and Jovi, Martha's daughter, because they're really great people. Martha's always been a big part of my life because she's always been there when I needed someone.
"My parents want me to go to college, but don't think I'll make it, but Martha was always helping me, encouraging me, telling me what I need to know to get signed up," said Chavez.
"I did my senior project on veterinarians and I would go often to their offices to see if this is what I wanted to do. And it is. I watched the operations. I watched the removal of tumors and dental work on cats. It was fun," said Chavez, who said she visited Pet Health Clinic in Sunnyside three or four times and visited a Prosser clinic once while she wrote her senior project.
"I love animals. I have a Chihuahua named Cookie, and I've always had a lot of animals and really got attached to them."
Chavez said she didn't seek even a menial job at a veterinary clinic because "I didn't think I really had a chance. I thought I needed some schooling first."
She said she considers her job at Two Peas in a Pod her first step into the real world of work, although she started working when she was a sophomore and has held several jobs, including working at Blue Sky Market in Mabton.
"Now I'm trying to get everything ready for college so I can succeed in the four years...or longer, it if takes longer," she said.