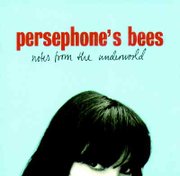 Swingin' London of the 60s meets 70s guitar pop, with a healthy dose of 80s alternative grooves.
Those are the influences you'll hear in "Notes from the Underworld," the first major label release by San Francisco-based Persephone's Bees.
You may have already heard snippets from the album as a sample of one song, the engaging "City of Love," has already appeared in a cell phone commercial.
But a sample doesn't do Persephone's Bees justice.
The yin and yang of Tom Ayres' guitar licks in contrast to Russian-born Angelina Moysov's lilting voice is hard to resist.
Moysov wrote the lyrics for all the songs on the album, with the exception of the rocker "Paper Plane."
Moysov's lyrics invoke imagery of her native Russia ("Home") and of worlds all her own ("Walk to the Moon"). She also mixes in a healthy dollop of word play as in "boots a go go" on "Even Though."
Ayres is equal parts rock musician, glam guitarist and creative genius, laying down a tight counterpart to Moysov's playful voice, which evokes Deborah Harry of Blondie or Terri Nunn of Berlin.
An example of Ayres' work is "Queen's Night Out," in which a driving rock guitar stops dead silent about halfway through the song, only to give way to a soaring riff worthy of Carlos Santana.
There are tracks on this cd you're sure you've heard somewhere before, showing influences ranging from the Beatles to the Cars.
"Even though," for example, pulls in a hint of harpsichord and an old Richenbacher guitar chop eerily reminiscent of the Byrds. Even the chorus, "I'm in love with you," nearly comes off with the same tone as "All you need is love." Persephone's Bees pulls it off, though. It's a song that makes you want to roll down the window and let the wind whip through your hair as you drive the open road.
This cd is chock full of songs like that.
Take the lead song, "Nice Day." The hurdy-gurdy chorus is a bit close to the Beatles' "Tax Man," but it's infectious right from the lazy keyboard opening and backbeat drum.
Persephone's Bees switches gears with "On the Earth," an electro-techno wonder that's Berlin meets the Cars.
About that techno wizardry, though. At times "Notes from the Underworld" feels overproduced.
On "Climbing," Moysov's vocals are dogged by a constant wah-wah sound effect. That made me want to hit the search button for the next song.
Most of the time, however, Persephone's Bees switches from one effect to another seamlessly.
That's also a danger.
Don't be surprised if you hear snippets from them on future rap songs or hear one of their tunes on an Austin Powers compilation.
Those would be compliments, to be sure, from others in the entertainment biz. But the whole is much more than sound sampling when it comes to "Notes from the Underworld."
Speaking of the underworld, I personally could do without the underworldly themes in the band's name and in a few of the lyrics.
The only other thing that stops me from giving "Notes from the Underworld" a full-out four-star rating is the lack of a lyric sheet.
There are pictures aplenty of the band, but how about a chance to absorb some of those lyrics Moysov teases us with throughout this 45-minute opus?
That and an English translation lyric sheet of "Muzika Dlya Fil'ma"-sung in Russian, no less-would make this the bees knees of a cd package.
"We all make mistakes forgive me," Moysov muses in "Paper Plane."
With a solid freshman effort like this, apology accepted.
More like this story