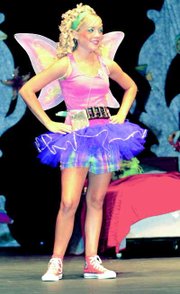 Taylor Gardner has been a busy young lady. After being named Miss Sunnyside for 2006-07 last Saturday, Gardner and the other girls in the court signed their contracts earlier this week and were involved with two ribbon cutting ceremonies last Tuesday.
Gardner will also be busy with her service project soon. Gardner and the Sunnyside court will be working with the Lower Valley Crisis Center in Sunnyside.
"October is domestic violence month," she said. "The court and I will be handing out purple ribbons."
Gardner explained the color purple is the color used for domestic violence.
The Miss Sunnyside court will also be collecting cell phones for the next year. Gardner is hoping many phones can be collected by people donating old and used phones to them.
The phones will be sent to Shelter Alliance, where they will be programmed to call 911 with the touch of a button. The phones are then sent back to the Wylie House, where the crisis center is located, and given to clients of the center.
This way, if the client is the victim of domestic violence or a sexual assault again, they can call for help.
She said the phones won't be able to be used for regular calls, only for emergencies.
The court will also be volunteering its time for causes of the Lower Valley Crisis Center to help raise awareness of domestic violence or sexual assault. They will go out into the community and let people know about the programs and services available at the crisis center.
"We would like to raise money for the Wylie House and their plans," she said. "We also want to bring awareness to our community about domestic violence and how serious it is."
Saturday, Sept. 23, will be the first parade Gardner and the new court will participate in. The 2006-07 Miss Sunnyside court will travel to Yakima and participate in the Sun Fair Day Parade. The court will also attend a luncheon that same day.
The court also has its coronation coming up in October.
Another goal Gardner would like to accomplish during her reign is broadening the court's relationships with other courts in the area.
"We've already met the Miss Cinco de Mayo court and we love them," Gardner added.