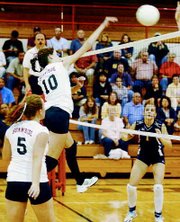 For most of Thursday night, Sunnyside and Southridge both played intense volleyball. Girls were nailing serves down the line, blasting kills and making incredible digs.
But it's hard for two teams to both keep up that kind of intensity and in the fourth game of the match, the Suns showed the Lady Grizzlies they still have some work to do.
Sunnyside bowed out to the Suns Thursday night 25-20, 18-25, 23-25 and 11-25 for its fifth league loss of the season. The Grizzlies (0-5, 2-7) hope to get back on the winning track this Saturday, Sept. 23, when they host Wapato at 12:30 p.m.
The first game in last night's match with Southridge was all Sunnyside.
"It was absolutely the best game I've ever coached at Sunnyside," Grizzly Coach Angel Carrizales said. "Marina (Martinez) played absolutely flawless. She had nine digs and six perfect passes in her serve-receive."
Two other players singled out by Carrizales that were key in the game one victory were Brittani Rammerman and Claire Schilperoort.
Schilperoort led both teams in kills, with 13 of them, and she finished the night with 17 digs. Rammerman served well throughout the night.
"She had seven aces total," Carrizales said of Rammerman's serving performance. "For one player that's pretty significant."
After winning the first game the Grizzlies started the second one flat. Sunnyside wasn't able to adapt to some line-up changes Carrizales made.
"We didn't play as flawless as we did in our first game," the Sunnyside coach said. "There were two long rallies we won because of our defense and that gave us momentum but we couldn't transist our ball handling over to our offense."
The third game looked as though the Lady Grizzlies were done. But, with the Suns up 22-12, the Grizzlies, behind Schilperoort and Jordyne Jaquish, made a comeback.
"Claire put up five kills and Jordyne put up three kills," Carrizales said.
Those eight points closed the gap and Sunnyside managed to run off 10 points to tie the game at 22-apiece. The Lady Grizzlies then took the lead 23-22 before the Suns sided out and tied the score again at 23.
Point 24 for the Suns was an aggressive mistake by the Grizzlies and then Southridge finished out the game to take a 2-1 advantage in the match.
The Suns had a pretty easy time in the fourth game.
"We were tired emotionally and physically," Carrizales said. "We just didn't get anything started at all. They worked so hard in that third game and ended up not winning it."
Sunnyside's Molly Dolan finished the night with six kills and two blocks, as did Jaquish.
Martinez had 25 digs in the match.
"It was one of her best games ever," Carrizales said of Martinez's play.
Melissa Stamschror finished the night with 15 assists.
"We're playing at a higher level than we've every played before," Carrizales explained. "The way we are competing on the court and playing in practice really encourages me that we will be able to continue to compete and improve at this level."