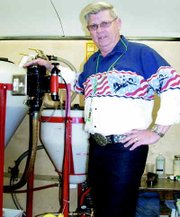 What began as a hobby for Glen and Kent Blomgren some 30 odd years ago is now an interesting fuel alternative known as biodiesel.
All-Phase BioTech, Inc. is the brothers' dream realized. The business, located in Yakima, sells biodiesel processors, which makes fuel using methanol and recycled vegetable oil. The fuel works on any vehicle that operates on number two diesel.
"We give regular people a chance to get into the action (of using the alternative fuel source)," said Blomgren.
According to Glen Blomgren, biodiesel is clean and environmentally safe. And, he adds, "The emission levels are way low."
The processors facilitate the chemical process known as transesterification where the glycerin is separated from vegetable oil.
During the process, Blomgren said there's only about 40 minutes of "hands-on time."
Vegetable oil is pumped in to the processor from a 55 gallon drum into the main tank. The pH is then sampled to gauge the level of fatty acids, which determines chemical composition. Methanol is then pumped in and how much methanol is pumped in is determined by the pH testing.
The brothers are busy this week hosting displays of the unit at the Central Washington State Fair. There are two displays daily at noon and 6 p.m.
The Blomgrens currently contract with several different restaurants to receive the used vegetable oil.
The process of straining the oil isn't as cumbersome as it might sound. Putting it through a simple strainer suffices.
He did say that the most ideal type of oil to use is virgin oil, like canola. Blomgren is hoping that area farmers will come aboard and begin growing to contribute to the industry.
"From farming aspect, this is the first product that I've ever seen that farmers can't over-produce. There's a huge potential market."
Blomgren has solely been using biodiesel in his Dodge truck for about a year and a half. He praised the performance of the fuel and said that it hasn't resulted in additional maintenance to the vehicle.
"It worked fine through the winter and (we just) continued with the normal maintenance cycle," he said.
Blomgren said that biodiesel is better for the environment because it's made from renewable resources. "It is less toxic than table salt and biodegrades as fast as sugar."
Recently, Blomgren filled up his 40 ft. motor home with biodiesel and took off for Las Vegas. The trip went off without a hitch and he had enough fuel to reach his destination. Ideally, he said, in that vehicle's tank, he should get about 2,000 miles. For his return trip home, he purchased regular fuel. Biodiesel and diesel can be used interchangeably.
In addition to selling the processors, the Blomgrens can also collect the oil, sell it and store it for the client.
To learn more, visit the company's website at www.homemadefuels.com or view the demonstrations at the Central Washington State Fair.