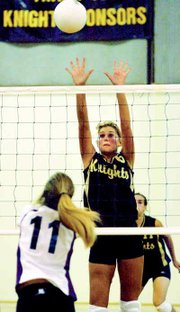 The Sunnyside Christian High School volleyball team learned two valuable life lessons last Friday night during a home league match with Klickitat.
1. Volleyball is only a game.
2. Team members need each other.
SCHS lost the match 3-2, but that wasn't the most important thing as the three VanWingerden sisters on the team (Tori, Melanie and Joleen) learned on that same evening their grandfather had died.
Just before the match concluded, the girls had another shock when teammate Abby Bangs, the coach's daughter, went down with a concussion after colliding with another player.
Bangs was later treated for shock and will be out two weeks with a concussion.
Yes, there was a volleyball match Friday night, but Coach Bangs says the girls are pulling together for different reasons.
"In many ways it helps us to remember how important it is to be a team," Bangs said. "To be there for each other and do what we have to do to help each other. We'll be there for the VanWingerden girls and we're going to be there for Abby."
The girls had to rally together just to make this a five-game match, as they trailed 2-1 entering the fourth game.
"After game three, when I could see the girls were frustrated, we just prayed and tried to relax and re-focus ourselves," Bang said. SCHS did just that, pulling out a 25-23 win to force a fifth game, which they lost 15-13.
The game was tied 13-13 when Bangs' daughter went down with the concussion. "That took its toll," she said. "It was difficult to continue after that."
Tori VanWingerden led SCHS with a perfect 22-of-22 behind the service line to go with 17 assists and five kills.
Andrea Schutt had a team-high 10 kills for the Lady Knights, and teammate Melanie VanWingerden followed with nine kills.
In response to the personal loss and injury on Friday, SCHS canceled a game scheduled at Wahluke this past Saturday. Bangs said the contest will be rescheduled at a later date.
Sunnyside Christian (3-1, 4-1) is scheduled to play at Bickleton tomorrow (Tuesday). Bangs said the match will likely be played as scheduled, though she said a couple of junior varsity matches may be canceled so the Lady Knights have enough varsity players.