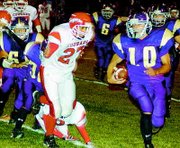 MABTON - Two goal line stands and an interception to thwart another drive would be a day's work for most defenders. But all that happened in just the first quarter for the Mabton football team, which held off White Swan 21-6 for a homecoming win this past Friday.
The visiting Cougars held the upper hand throughout the first quarter, moving the ball and on defense holding Mabton to just a pair of three-and-outs.
But, White Swan had nothing to show for all that momentum, thanks to those two goal line stands by Mabton's defensive line.
After a scoreless first quarter, Mabton continued to hold White Swan at bay in the second and on offense finally found room to run.
With just over three minutes to play in the first half, Mabton's Andy Rivera broke the stalemate with a five-yard plunge. The point after kick made it 7-0 for the Vikings.
The breakthrough scoring drive began with a 24-yard toss from quarterback Luis Quintero to Cody Loomis to put Mabton in business at mid-field.
From there the Vikes took a three-headed approach to the run game, with Quintero and running backs Moises Gutierrez and Eli Perez each taking their turn against the White Swan line.
"The way we saw it they had eight men on the line to stop Eli," said Mabton Coach John Durham. Mabton's response then, was a game of misdirection by using three different backs to confuse the White Swan line.
The Cougars weren't quite finished and, thanks in part to a pass interference penalty against Mabton, had a third opportunity near the Viking goal line as the first half clock wound down.
Mabton's defenders were up to the challenge and turned away the threat to protect a 7-0 lead at halftime.
During halftime homecoming festivities, Mabton senior Josie Chase was named the 2006 homecoming Queen. The homecoming court also included Senior Princess Issela Rodriguez, Junior Princess Jessica Lupercio, Sophomore Princess Trishi Williams and Freshman Princess Laura Sanchez.
As the second half opened, Mabton wouldn't have to wait long to add to their lead.
White Swan attempted an on-side kick to start the second half in a bid to regain momentum. But it only made things worse for the Cougars as Mabton recovered at mid-field.
The Vikes made quick work of the short field, as Perez broke off two big runs to move the ball to the White Swan-24. Quintero found paydirt five plays later with a 12-yard scamper to put Mabton up 14-0 after a successful point after kick.
After the ensuing kick-off, White Swan moved the ball up to mid-field with just over five minutes to play in the third.
Facing fourth-and-four, the Cougars again gambled and lost by going for it on fourth down rather than punting the ball deep into Mabton territory.
The Vikes couldn't take advantage of the short field, but did pin White Swan back on its 13-yard-line following a punt.
The Cougars managed one first down, then stalled and faced a fourth-and-12 from their own 25.
Deep in its own territory, White Swan gambled yet again and lost when an ill-advised fake punt attempt failed badly and set Mabton at the Cougar-15.
To make matters worse, White Swan had 12 men on the field on the very next play to make it a first-and-goal situation for Mabton.
Not one to look a gift score in the mouth, the Vikes immediately capitalized with a touchdown run by Gutierrez to all but put the game out of reach at 21-0 with two minutes remaining in the third quarter.
Mabton was done scoring for the game, but White Swan wasn't quite finished.
Forced to an air game, Cougar quarterback Christian Dimalanta threw for 108 yards passing in the fourth quarter alone. Up to that point, he had 74 yards passing through three quarters.
The air attack paid dividends with a 21-yard touchdown strike to make it a 21-6 game with 8:57 to play in the game.
White Swan continued to find holes in the Mabton secondary, and mounted another scoring threat that the Vikes turned away deep in their territory to preserve the 21-6 winning score.
Gutierrez sparked the Mabton ground attack with 125 yards rushing on 13 carries. Perez carried 15 times for 91 yards and Quintero ran for 24 yards on six carries.
Quintero also gave the Vikes a lift with the passing game, throwing for 61 yards on five-of-15 passing.
Durham praised his team's effort, especially in keeping the game close during White Swan's first quarter domination.
"They have a tremendous will," Durham said of his players. "We've seen it in them since the first game of the season."
The win was not only Mabton's first of the year, but was also a league win in their SCAC West debut.
"It's like I told the kids, it all starts here," Durham said.
The Vikings (1-0, 1-3) will take on another league foe this Friday at Highland.