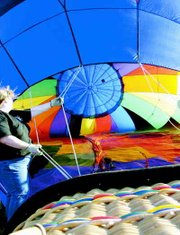 PROSSER - What do hot air balloonists do when they aren't flying?
They talk about flying.
And about 35 of them had something to talk about Saturday at a balloonist party that's become an annual event since it started about 12 years ago after one of the balloons made an unannounced landing in a Prosser field owned by Linda and Charlie Card during the Prosser Balloon Rally.
The details of how that first party developed are vague.
"We just kind of knew the balloonists that first year and then it just evolved," said Pat Cleveland at whose home this year's private party was held this past Saturday.
Cleveland, her husband Forest, Gail and Bruce Matsumura and the Cards have taken turns hosting the party over the years. All are neighbors in rural Prosser.
Saturday half a hundred balloon pilots, their families and crews and local friends gathered to feast from tables groaning under the weight of home-cooked potluck dishes and desserts.
The food was served up along with stories from the people who travel with the wind.
Whether it was the first balloon ride taken by a 72-year-old the day before out of the Prosser airport, the Mother's Day ride new pilot Doug Fifield of Auburn took his mother on or the 2001 flight that took pilots Larry Simbuger and Vic Johnson 18,000 feet over Mt. Rainier, the experiences were shared and enjoyed.
Johnson was recognized at the party as the Balloon Master. He's flown commercially for Coca Cola, Kellogg and other large companies who have used hot air balloons to keep their image on high.
Until nine months ago, Johnson made his living by ballooning, even when and if he had to tap into other jobs to maintain the lifestyle he and wife Mandy and their children enjoy in Kent. Mandy, also a balloon pilot, operated a balloon business where she repaired balloons, taught students and offered flights.
Fifield, whose mother Doretta took the Mother's Day flight and said she'd fly with him every day if she could, was a student of Mandy's. Although he's from Auburn, he received his private license in 1999 during a Prosser Balloon Rally.
While Mandy will still give some lessons and an occasional flight in one of the Johnsons' three balloons, she switched her business interests over to a furniture company, which she manages. It was nine months ago that Vic joined her in the business.
So, while ballooning has become more of a hobby than a business for them, they still have lots of stories to tell and high flying moments to remember.
That ride over Mt. Rainier is one of the highest.
Vic and Larry Simburger, a Boeing project manager from Everett, spent months planning for the 18,000-foot high flight.
One of the high elevation test flights was scheduled out of Prosser with Vic and Terry Leishman of Ferndale, another pilot who planned to make the Mt. Rainier attempt.
"But we ran into bad weather at 5,000 feet. There was a big, ugly, black cloud we weren't expecting. So we forgot about it, and just turned it into a sort of fun flight," said Leishman, who lost interest and bailed out of the Mt. Rainier plan after that.
"Vic and I did an initial 18,000 elevation flight out of Spokane. We were dressed for -19 and it was +19 and we were taking clothes off like crazy," said Simburger.
Simburger and Leishman took turns Saturday recalling stories that involved the Balloon Master.
"Vic made one hard landing that tipped the gondola over and dragged us along the ground at about 20 miles an hour," said Leishman. Simburger recalled Vic accidentally and unknowingly disconnecting from an oxygen line at 18,000 feet. "You become kind of euphoric and silly without the oxygen, but we were already excited and so happy about what we were doing, it was kind of hard to tell anything was wrong with him," said Simburger.
Telling tales on each other was just part of the fun Saturday. "We're hard on each other. We don't give each other a break," said Simburger, laughing.
Among the snippets of overheard conversation was a story about a landing made in a field previously decorated squishily by cows, and another told in quiet voices about the mixed feelings of those who gathered for the annual party unattended by balloonists when 9-11 canceled the Prosser rally.
The enthusiasm of that 72-year-old, who took her first ride last Friday during a media event at the Prosser airport, fired up Pete McWhirk, a 77-year-old who lived in Sunnyside for 30 years before moving to Prosser a few months ago.
McWhirk, a petite, white-haired lady who uses a walker and cane, thought a peaceful, safe ride in one of the colorful hot air balloons would be just the ticket. A word whispered into the ear of Mandy Johnson was all it took to get the ball rolling.
When the last paper plate was tossed into the garbage, the party at the Cleveland house broke up to reconvene on a nearby field the Johnsons have purchased to accommodate the flights they take out of Prosser when the weather at home in Kent isn't conducive to flying.
The party participants became willing crew members, helping to assemble the gondolas and attach them to the balloons, which were first inflated with cold air and then hot, which lifted them upright.
McWhirk abandoned her walker and, with the help of a lift on the back of a pickup, she was lifted level with Mandy's gondola and then hoisted over the side, where a seat had been arranged for her.
As the balloon lifted off, a beaming, grinning McWhirk leaned over the side, waved at the crowd below and sailed into the blue...definitely another hot air balloon story in the making.