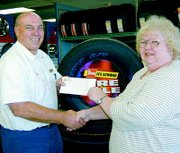 Steve Rounds took first place and the bonus money this week for guessing all games correctly in the football forecast. Having guessed all 11 games correctly he made off with not only the $50 first prize but the $20 bonus as well. Rounds, a native Sunnysider who now lives in Portland is a regular entrant along with his brother Dave, also of Portland, and mother and brother Pat and Eric of Sunnyside.
This week's bonus for guessing all games correctly will go to $10.
Joan Den Boer of Sunnyside took second place and a three-month subscription with only one miss this week.
Be sure to get that entry blank filled out and dropped off at the Daily Sun News office at 600 S. 6th St, Sunnyside. You may also mail it to PO Box 878, Sunnyside, WA 98944. Faxing is also accepted. Just fax it to 509-837-6397.