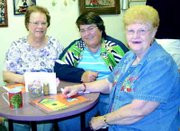 Many years ago, the Lower Valley Business Women's Club was an active bunch. That's not the case today, but there are three women that are hoping to change that.
Over the course of time, membership has dropped off and the club's been inactive for seven years. But Cathy Mears, Barbara Skinner and Phyllis Bruhn have high hopes for the current women professionals in the lower valley.
"Like any group or organization in current times, we're just too mobile as a society," said Mears, noting that numerous service clubs appear to be dwindling.
Adds Bruhn, "The older members are getting too old and the younger (generation) is just too mobile."
Mears said, "However, the world still needs groups like this."
By mobile, the women mean that it's "too easy to hop on the freeway" and do other things.
"We're getting away from being community oriented," said Mears.
She'd like to see that change.
Prior to the club's inactive status, their goals were numerous. "Our purpose is to support our community, our country, and our world, participate in community activities and provide scholarships to women who want to either advance in their careers or enter the work force," said Mears.
When Mears joined in 1968, between 30 and 40 women were likely to attend a meeting.
The club met monthly, often featuring guest speakers. Former Congressman Sid Morrison and Senator Jim Honeyford are among past speakers. Mears said that the women strove to be active in politics at the local, state and national levels.
"Years ago (the club) allowed a forum that we wouldn't have had otherwise. Now, in present times, the background (of the club) allows for a group to come together and support its community."
The club was among the first to provide women with scholarships to attend what was then Heritage College. "Our financial support allowed (women) to go back to school," said Mears.
At present, the club still has funds available to award as scholarships.
Professions of club members ranged from beauticians to educators, medical staff to bakers. Now, almost all the remaining members are retired from their professions.
"It was a coming together of different professionals that would not have met otherwise," said Mears. "It was a tremendous networking opportunity." Bruhn added, "People became friends and friends forever more."
Said Mears, "It allowed a forum that we wouldn't have had otherwise. Now, at present times, the background of the club allows for a group to come together and support its community. It also allows women to hold offices (within the club), which provides women training in leadership. You never lose that no matter where you go.
"We can all learn through the skills developed (within this) group."
Mears' hope is that business women, or women wishing to enter the work force, will read this article and heed the call to join the club. She believes the interest in the club still exists.
That, coupled with the club's already existing by-laws and constitution, should make easy restoring the club's status to active.
The club's mission statement is to elevate the standards for women in business, promote interests of professional women, to network, and to extend opportunities through education.
To learn about existing scholarship opportunities for women, call club secretary/treasurer Barbara Skinner at 839-5222. The scholarships are not available to current high school students.
To learn more about the club, call club president Lousie Roehl at 837-5893.