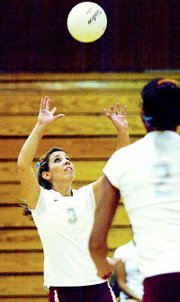 GRANDVIEW - It was short and sweet as the Grandview volleyball team continued its winning ways with a 3-0 sweep of visiting Ephrata last night in CWAC action.
The Lady Greyhounds, now 5-0 in league play and 6-0 overall, took control from the start with a 25-11 win in game one.
Grandview followed that up with a convincing 25-11 victory in game two, then sealed the deal with a 25-8 rout in game three.
Kealey Johnston nearly pulled off yet another double-double for Grandview, by recording a game-high 10 kills to go with seven kills. Johnston also collected six service points.
Katie Veloz contributed a team-high 10 digs for Grandview, while teammates Chante Bottineau and Danika Martinez were dominant from behind the service line with 11 and 13 service points, respectively. Sydney Mottice added eight service points for Grandview.
Bottineau also paced the Lady Greyhound attack with 29 assists, impressive for just a three-game match.
Helping out at the Grandview net were Raissa Licano and Kinzi Poteet, with eight kills each.
"It was a good match," observed Grandview Coach John La Fever. "We are improving."
The Lady Greyhounds will get a chance to continue their progress with a league match at Othello this Thursday.