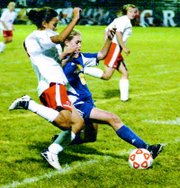 The Sunnyside girls soccer team rallied after a slow start, but still fell short in a 9-0 home loss to Southridge in Columbia Basin League action last night.
"There were lots of good things happening, but also some mistakes," observed Sunnyside Coach Kathy Jolliff. "They (Southridge) got some quick goals on us based on our mistakes," she said of the Lady Grizzlies' 6-0 halftime deficit.
Jolliff attributed part of the slow start to some members of her team "who were not mentally ready when the game started."
She added, "The whole team has to be there 100 percent mentally and physically because this league is very competitive."
Jolliff did praise her team's turnaround in the second half, which saw Sunnyside surrender just three goals. "We had to work twice as hard to come back, but the girls did rally in the second half," she said.
Jolliff also gave credit to Southridge's opportunistic attack.
"Whenever we made a mistake an opponent was always there to capitalize," she said.
Despite the loss, Sunnyside (0-6, 1-8) saw some points of progress.
The contest marked returning varsity player Evelyn Candido's season debut following recovery from a broken collarbone.
In addition, Jolliff said Stephanie Garza had a great second half in goal and came up with some big saves. "Michelle Galvan and Jacquie Roberts both played well at outside midfield," Jolliff added.
In looking ahead, Jolliff noted, "We are looking forward to (this) Saturday's game when we play (at) Kennewick, who has the same record as we do in the league."