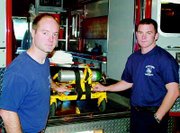 One minute you're relaxing, eating a meal or maybe catching a television show.
The next you're engaged in a life and death struggle to save someone in need.
That's all in a day, literally, for the Sunnyside Fire Department's two newest paramedics, Richard Cearns and Ronnie Wenger, who started here last week.
They work 24-hour shifts, followed by 48 hours off.
For Wenger, 28, Sunnyside represents a familiar locale as he has family members in the area.
Before coming to the Sunnyside Fire Department, Wenger was a paramedic in Centralia for just over three years.
Both Wenger and Cearns said the move to Sunnyside was in part out of a desire to move away from the big city rat race to a smaller community.
Cearns, 23, worked as a paramedic in Hillsboro, Ore.-near Portland-for two years before coming to Sunnyside.
"I'm from eastern Oregon originally and I wanted to get away from the city," said Cearns.
Wenger added that Sunnyside has always been a home away from home for him, dating back to summers when he used to visit his grandmother here.
Wenger, who lives in Sunnyside with wife Jodi, noted, "It is a slower pace of life here than the westside of the mountains. Here's it's more of a slow walk than a sprint."
Both say they their career choice as a paramedic stemmed from a desire to be a fireman.
"I always wanted to be a firefighter," said Wenger. "And this was a way for me do that."
For Cearns, firefighting is a family matter.
"I just wanted to be a fireman, my dad was a paramedic," he said.
In their roles as paramedics, Wenger and Cearns experience both saving lives in Sunnyside's "ER on wheels" and also help save homes by battling blazes.
The life of a paramedic is not easy. A typical 24-hour shift may see one of them wiping down one of the city's fire rigs, then dropping everything to respond to an alarm.
To withstand the quick change of pace, Wenger and Cearns say a sense of humor is essential.
"A huge percentage of paramedics have a pretty decent sense of humor," Wenger smiled.
But that all changes when a call comes in, he added.
"When we go out on a call it could be somebody's worst day," Wenger said. "It's an emergency to someone, it could be a life or death matter."