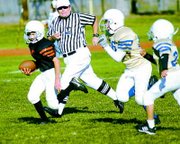 This past weekend proved to be forgettable for three of the four Sunnyside Grid Kid teams.
Playing in early games, both of Sunnyside's "B" teams suffered losses. The Black team was dealt a shutout loss by LaSalle 20-0, and the Red team dropped a defensive battle to Wapato 12-7.
Early on in the Red team's game things looked promising for Sunnyside as quarterback Eduardo Salmeron hit Lorenzo Carbajal, who got behind two defenders and made a juggling catch, for a touchdown in the second quarter. The PAT was good to give them a 7-0 lead.
Into the fourth quarter Sunnyside held the lead and kept the Wolfpack at bay with a stout defense. But, with 7:42 to go in the fourth Wapato struck with an off-tackle plunge that cut the lead to 7-6.
Sunnyside didn't respond and turned the ball back over to Wapato. With 2:12 to play Wapato used the off-tackle run to perfection and put the ball in the end zone from 15 yards out.
Sunnyside had one shot but turned the ball over and Wapato ran out the clock.
It was the same old story for Sunnyside's "A" team, unable to move the ball on offense the defense was called on to stop a strong Toppenish running game. Even though the defense held its own it was just a matter of time before Toppenish took solid control.
Toppenish put together two strong drives in the first half and a solid second half, then kept the Sunnyside offense on its heels as they rolled to a 27-6 win.
The only Sunnyside team to chalk up a win this past weekend was the "C" squad, which beat Toppenish 26-0.
Behind the quarterbacking of Hassan Kone, Sunnyside racked up big yardage time after time to take the wind out of the sails of Toppenish and keep their offense off the field.