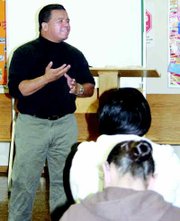 Los Angeles-based evangelical speaker Luis Mangandi brought his message to Sunnyside's Christian Reformed Church this past weekend, ministering to parents and children of the community.
On Saturday afternoon, Mangandi sat down for an informal discussion with about 30 young people to discuss pre-marital sex.
After citing pregnancy statistics, Mangandi asked the youths, "How many of you think sex is bad?" Few young people raised their hands. He said, "That's good. Sex isn't bad because God created it. But it's supposed to be done within the limits of marriage."
Mangandi said there are several reasons why young people engage in sexual behaviors, including being raised in a dysfunctional family besieged by problems like domestic violence and verbal abuse, peer pressure and simply not knowing what being genuinely loved and cared for feels like.
In terms of domestic violence and verbal abuse, Mangandi said he was raised in that kind of family. "I ended up looking for affection, which led to becoming a victim of abuse," he said.
"I used sex, alcohol and drugs as a way of making myself feel better."
Mangandi said that, at age 14, his typical day consisted of getting up, getting high, then taking off on his bike for school. He said that smoking pot led to the eventual use of harsher drugs, like smoking cocaine.
When his dad was around, he said, his mom took out her bitterness and anger on him, physically and verbally.
"When we don't feel protected, when we don't feel safe or loved, we go looking for it somewhere else," he said.
Mangandi said that he is a firm believer that sex education should take place between a parent and child.
Mangandi said that one contributing factor to pre-marital sex is the fact that too many young people are getting involved in long-term relationships too soon. He said that spending time alone together can often lead to sex.
Drug and alcohol use, he said, can often lead to a young person doing something he or she will likely regret.
Other contributing factors he cited included television and web based programs like Myspace.
Mangandi told the young people his regrets, which included hurting girls by using them and not having a full and complete memory of the things he did when he was high on drugs.
He told the young people that engaging in sex will "leave a mark on your heart that you'll carry for the rest of your life."
He concluded by stressing that not engaging in sex is an individual based decision. "Determine in your heart that you're going to stay pure, no matter what," he encouraged.