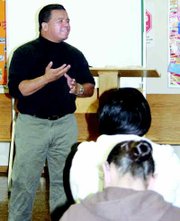 Alex Aguilar scored two goals and assisted on a third in leading the Sunnyside boys soccer team to a 3-0 Columbia Basin League victory over Southridge last Saturday.
The Grizzlies broke through for a goal in the 35th minute when Aguilar knocked home a goal on a free kick. It marked the second time this season that the sure-footed Aguilar scored on a free kick.
That put the home Grizzlies up 1-0 at the half.
In the second half, Aguilar scored again on a corner kick in the 54th minute. Teammate Matt Jongsma flicked the kick off his head for the assist to Aguilar, who banged it home.
Sunnyside made sure of the outcome in the 73rd minute, when Brian Galvan scored off of an assist from Aguilar.
Keeper Joaquin Perez had six saves for Sunnyside in preserving the shutout.
"It was a good match," said Coach Juan Pineda. "Southridge held us off for awhile, but we became more confident in our attacking."
Sunnyside (3-2, 5-2) travels to undefeated Eastmont tomorrow, Tuesday.