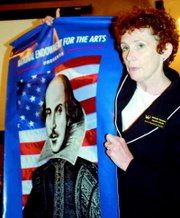 An effort to make sure every high school student in the U.S. has a chance to see a professional theatrical performance of a Shakespearean play is the momentum behind "Chamber Macbeth" to be performed next week at Sunnyside High School.
That's according to Michelle Traverso, education director for the Seattle Shakespeare Company.
Traverso was in Sunnyside this morning, describing the coming performances of Macbeth with the Sunnyside Daybreak Rotary.
She had planned a power point slide show of scenes from the production headed to Sunnyside, but a computer glitch prompted Traverso to pull members from the audience to portray characters in an impromptu preview.
Earlier during this morning's presentation, Traverso recalled her years as an English teacher in Royal, and the impact on students when they saw live theater.
In applying for a National Endowment of the Arts Grant to take Macbeth on the road, Traverso said she wanted to focus the Seattle group on bringing live theater to central and eastern Washington.
"Sunnyside High School has an amazing facility," Traverso said of the 750-seat auditorium, which will host next week's performances. "We can base our production of Macbeth in Sunnyside and serve schools in the entire Yakima Valley."
School matinee performances for students will be Wednesday through Friday, April 11-13, at the Sunnyside High School auditorium. Student matinees will be performed each of the three days. For student ticket reservations, school districts are asked to call (206) 733-8228 x212.
A community performance of "Chamber Macbeth" is also scheduled for 7 p.m. on Thursday, April 12. Tickets are $15 and are available through the Sunnyside High School Associated Student Body (ASB). Tickets are also available through Seattle Shakespeare Company by calling (206) 733-8222 or online at www.seattleshakspeare.org
Traverso said the Seattle Shakespeare Company chose Macbeth, which will be performed in the round, because of the cultures, rituals and mysticism it portrays.
In addition to the National Endowment of the Arts, Sunnyside Community Hospital is also a sponsor for the Sunnyside performances. The producing partner for production is Sunnyside High School.
Traverso said that "Chamber Macbeth" is appropriate for ages 13 and older.
The Seattle Shakespeare Company is Washington state's only year-round professional, classical theater dedicated to producing the work of Shakespeare.
. John Fannin can be contacted at (509) 837-4500, or e-mail jfannin@eaglenewspapers.com