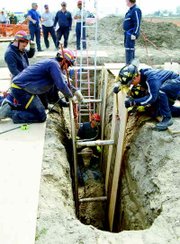 Members of the Sunnyside Fire Department, Grandview Fire Department and Sunnyside Public Works Department underwent trench rescue training this past Monday and Tuesday.
The two-day training helped the 20 personnel refresh skills in rescuing someone from a trench utilizing a "T trench" dug for training purposes.
Sunnyside Fire Department Deputy Chief Lloyd Hazzard said instructors Jeff Beeler and Sonny Saghera of La Mesa, Calif. were on hand to help crews practice shoring walls in a trench in an emergency situation.
"We are learning to work together if a city worker or citizen is in a trench and finds themselves in trouble from walls sloughing off or a heart attack or any combination of problems," Hazzard said. The biggest concern with a trench is when a person is buried from walls collapsing.
The "T trench" was dug approximately seven and a half feet down in order to give the rescue personnel advanced training. "Most trenches are one way. They don't usually have the 'T' configuration," said Sunnyside Fire Department Chief Aaron Markham.
The personnel attending the training included two Sunnyside sewer department workers, two Sunnyside water department workers, two workers from the streets department and 14 firefighters.
The training taught the emergency rescue personnel to shore up the walls of a trench using plywood and boards that will stabilize the plywood, placing the plywood sheets against the walls of a trench. The personnel on scene tie themselves off with safety harnesses and use a "Speedshore" to secure the plywood against the walls of a trench. This reduces the risk of the trench walls collapsing on rescue personnel.
Markham said the fire department undergoes trench rescue training every couple of years. "This is a refresher course for most of the men here," he stated as firefighters began to shore the walls of the training trench.