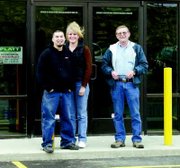 GRANDVIEW - One look at the new Platt facility located on Stover Loop in Grandview and one is aware the change is grand.
Platt Electric Supply Inc. moved from its former location on Factory Road in Sunnyside to the current Grandview location in January.
The move was announced "...the old fashion way," according to Platt Region Vice President Gregg Steeb, "One by one, person to person, every one of our customers is important to us."
Why the change? Steeb said the company wanted to "...better serve all the customer needs and market growth."
He felt the new location will give Platt room to grow with its customers and the market.
Platt serves businesses in the electrical, industrial, commercial, datacom and utility community. It supplies wiring, electrical hardware and power tools and accessories to its customers.
"The decision that went into deciding upon the location in Grandview was the proximity to serve all of our customer base and the market," said Steeb.
He stated that Platt has been growing its branch network in Eastern Washington for more than 35 years and they hope the new location is serving customers more conveniently. "However our customers are the ones to ask such a question," Shreeve commented.
He also added that the entire market has been very supportive of Platt and they look forward to earning the business of customers "...every day with every order."