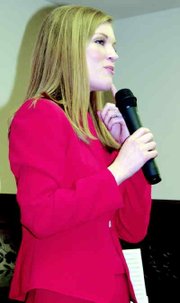 GRANDVIEW - Miss Washington Kristen Eddings was the featured guest speaker at the Grandview Rotary meeting this past Wednesday.
Eddings recently participated in the Miss America Pageant and broke a 16-year barrier for the state program in becoming a top 10 finalist.
Eddings is a Seattle Pacific University graduate who majored in international relations. The Miss America hopeful's platform was internationally based with three basic prongs.
"It's very important for us to focus on the rest of the world," she said, adding that geography needs to come back into the classroom across the nation.
"Geography education is something our students need to learn because they'll be graduating into a globalized world." Eddings said that when a student learns about other parts of the world, they also learn about other cultures.
She also promotes learning other languages at the high school level. "I've come to the conclusion that it's crucial that if a student graduates high school, they should speak another language."
For the third prong of her platform, she said, "We need to send (the students) out into the world."
At this point, she praised the Rotary program for doing things that "single handedly change the world," which includes Rotary's student exchange program.
"Student exchanges really have the power to change the person that goes and the people around them," she said.
Eddings spoke about her involvement in a program called Bridges to Understanding, which led her to travel to India to work with Tibetan refugees.
During her trip, she brought a "culture box," which featured items selected by young people that represent American culture. While in India, Eddings had a group of young people come up with items reflective of their culture. When she returned to the American classroom with the Tibetan culture box, she said the students were awestruck into silence until one student said, "We have everything in common!"
She tied this into her platform. "I have a platform that really aims toward world peace," she said.
To date, Eddings said she's received $30,000 from the Miss Washington Scholarship Organization. "Education is the number one focus of our program," she said.
Lynda Jo Gross/Daily Sun News
Miss Washington Kristen Eddings told Grandview Rotarians the basis of her platform when she competed for the title of Miss America in January.