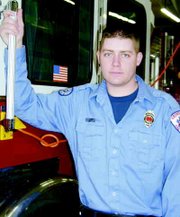 GRANDVIEW - As soon as he turned 18, Joel Byam applied for a volunteer firefighter position at his hometown fire department. Now, seven years later, he finds himself promoted to lieutenant. a certified EMT and was recently named Grandview's Firefighter of the Year.
"I never expected to stay this long," says Byam.
Byam was still in high school when he joined. "I didn't know what I wanted to do," he says. "I had different job shadows and different things. Then I became a volunteer.
"I found something I really like and have fun doing."
Joining on changed his life. "I didn't think I was going to be 18, still in high school, fighting fires and pulling people out of cars.
"It changes you."
Byam said that in his job, there are tough times and there are good times.
One aspect he finds difficult is knowing victims of fire or accidents. "It's a small town. You see people you know," he says simply.
Only once, recently, did Byam have to get up, walk away and let someone take over. He realized the patient he was administering chest compressions to was the man who taught him to ride horses when he was four-years old. "It was tough," he says.
But, he adds, "These are the things that helped me progress, being put in so many diverse situations."
Byam is a sales manager for a company out of Kirkland that sells fire and safety equipment. He sells products to 280 fire departments, wineries, ethanol and biodiesel plants and even drug task forces in different areas.
Things have changed since Byam joined the fire department. It used to be recruits would have to wait until January to undergo basic fire training.
That's not the case anymore, thanks to a pilot program implemented by Grandview Fire Chief Pat Mason.
"We can bring (volunteers) on any time," Byam says. "That way, they don't have to wait until January, lose interest and move on."
At present, Byam finds himself on-call on some weekends, which means the young firefighter assumes command in an emergency.
Of his firefighter duties, he says, "It's rewarding. It's fun. It's different everyday.
"And you learn so many life lessons."