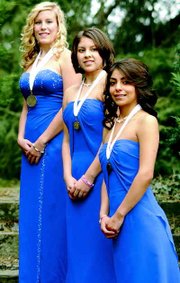 Grandview Junior Miss program slated for April 14
by Lynda Jo Gross
GRANDVIEW - Four Grandview High School juniors will vie for the title of Grandview Junior Miss on Saturday, April 14, at 7 p.m. at Grandview Middle School.
The theme for this year's event is "Wipeout," a term made famous by the ever popular Beach Boys. And according to Cookie Shannon, guests will be treated to several popular Beach Boys songs.
The event will feature the fun mix of entertainment program-goers have learned to expect. As part of their fond farewell, the three current court members will perform skits with their fathers mimicking last year's talent portion of competition. The event will also feature a slideshow of projects the ladies have been involved in this past year.
"I encourage everyone to come out and support these girls," said Shannon, Junior Miss program chairwoman. "Grandview Junior Miss has continued to be an excellent program."
Shannon said she also encourages people to come say goodbye to the current court, whom she praised not only for their Junior Miss works, but their hearts for community service too.
Ticket costs are $5 per adult and $3 for senior citizens, children, and students. All children occupying a seat at the program will need a ticket.
Tickets can be purchased from current court members, court hopefuls and Shannon. For more information, call Shannon at 882-3198.